Ok it's official : every time we plan an event either it is a party or just a small gathering it has to make the perfect storm. This time was no exception to our little rule. We had a small Halloween party for the young kids of our family last Saturday. In Athens the weather was just awful. Storm and thunders were about to ruin our plans ! The roads got flooded and I got to watch around 20 thunders striking all over the place (I really hate thunders !) 
Good thing my family is unstoppable ! No storm can stop them from partying ! So our little Halloween celebration was a success. It was the first time we had such a party. Halloween is definitely not part of Greek tradition so we are not used in celebrating this American tradition. Penelope however really loves it she always tells us "trick or treat" each year.
Eight kids with their parents and a mom going nuts in planning parties… ok nothing could stop me. It's a shame I don't have pictures of all of it and most of my shoots are really blurry (probably I was overexcited!) We really had a blast ! I managed to make Oreo cake pops and discovered a super yummy chocolate cupcake recipe. Of course I wanted to make more, but it was ok I think everyone got fed .
The invitations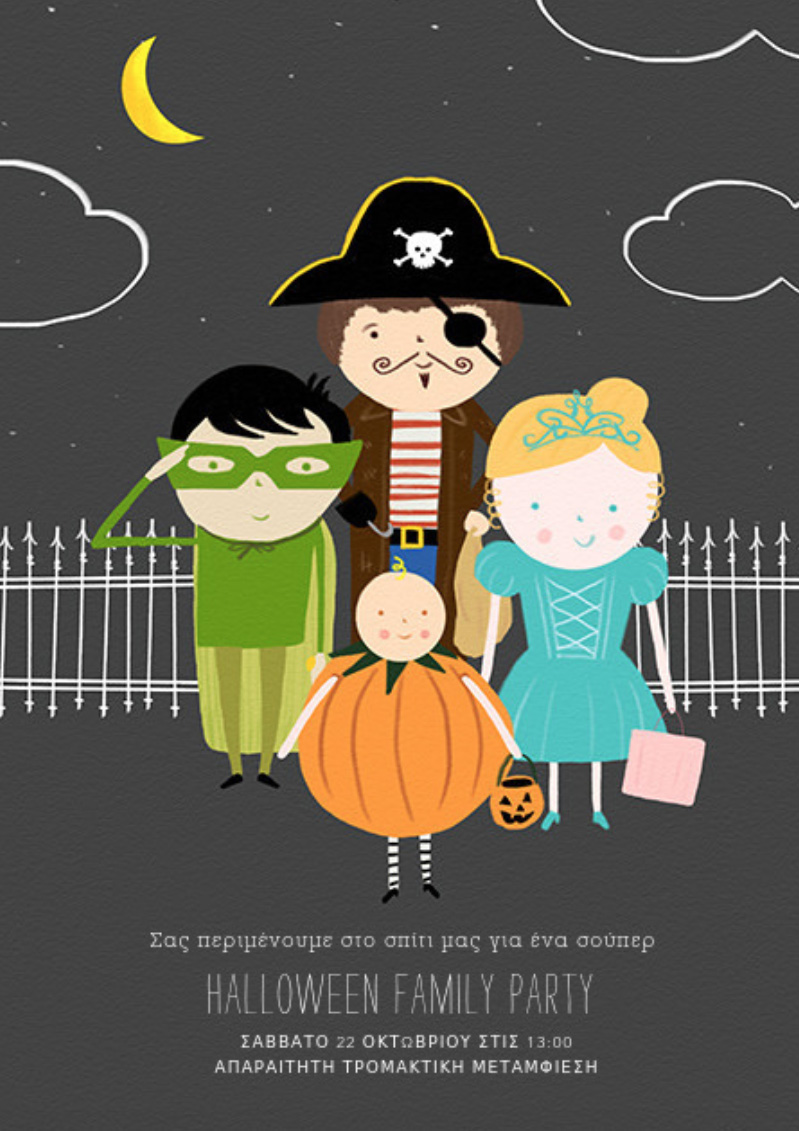 I wanted something special and nice. I got the idea from my friend Calliope. Paperlesspost offers a variety of free or paid choices of online invitations. You can edit the invitation to your personal details with no cost, send them via email and you are done !
Giveaway Gifts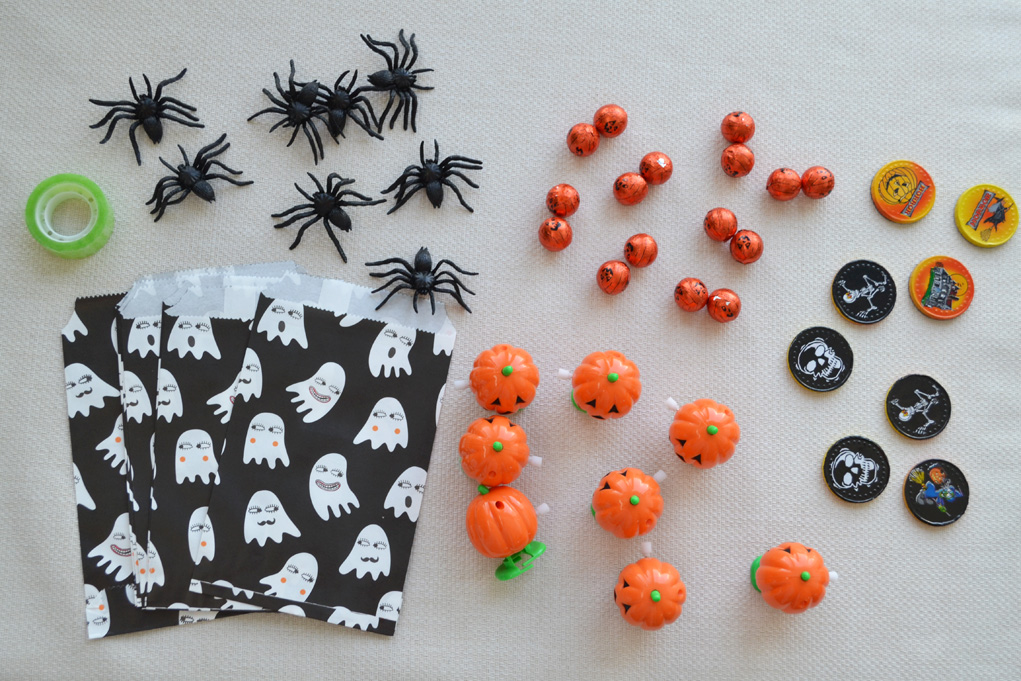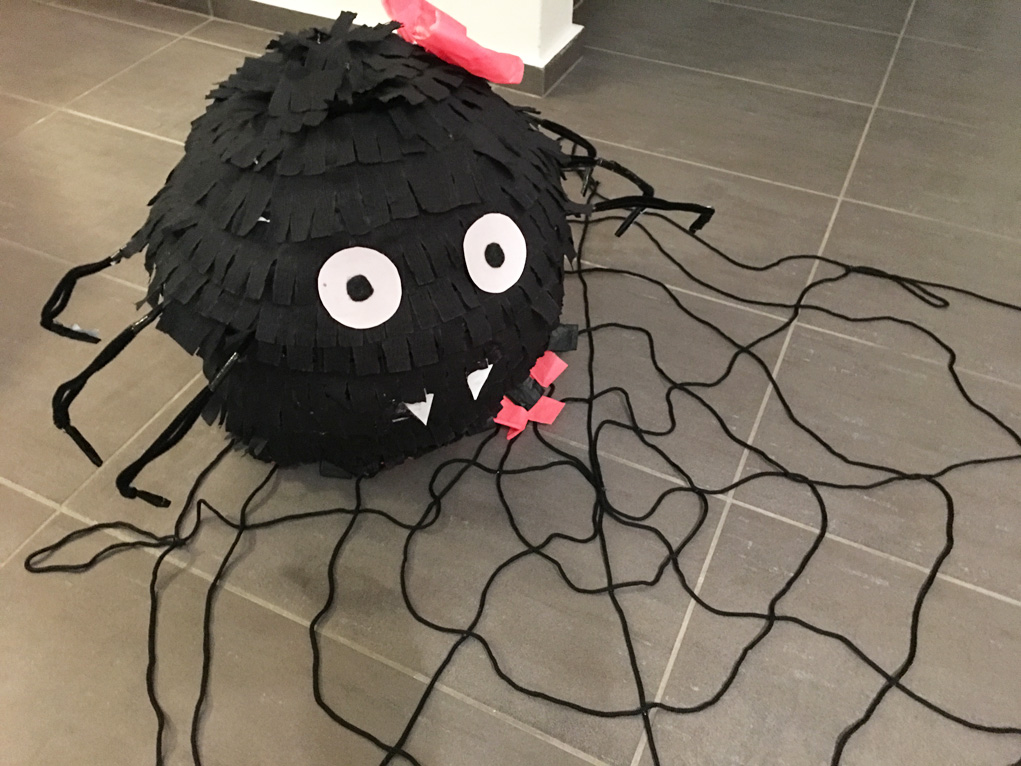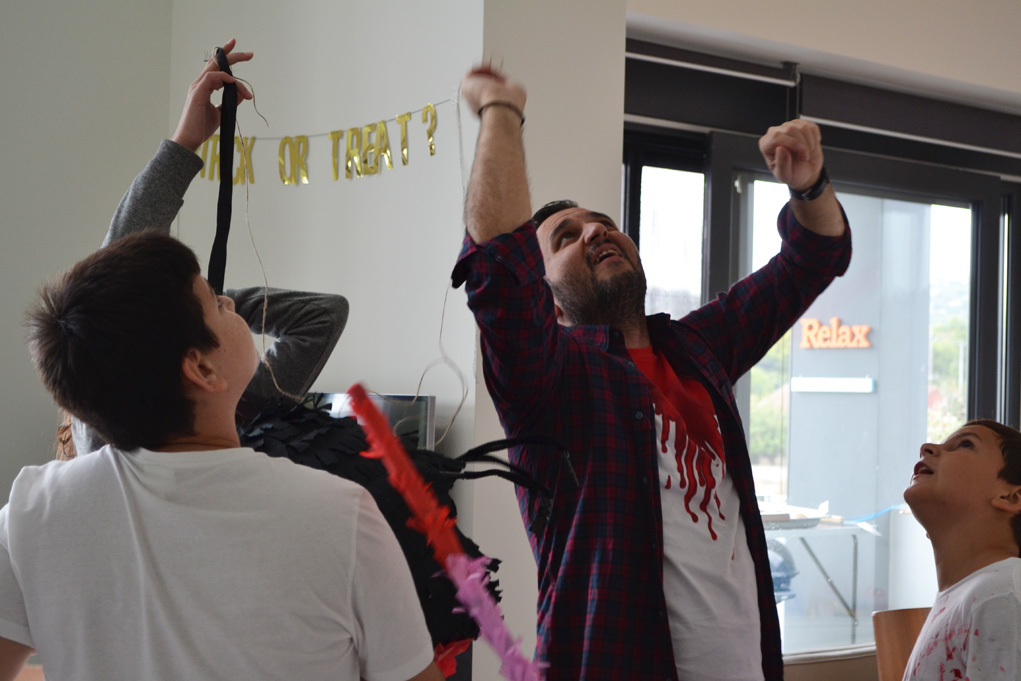 I am very proud of us since Yiannis and me managed to make a super cute spider piñata (if it wasn't for Yiannis I could never manage to pull it through ). Our DIY spider piñata deserves a post of its own. I will post the project asap. The gifts included in the piñata were all bought for our local Tiger. They were wrapped in paper bags for each young guest separately to avoid any misunderstandings 😉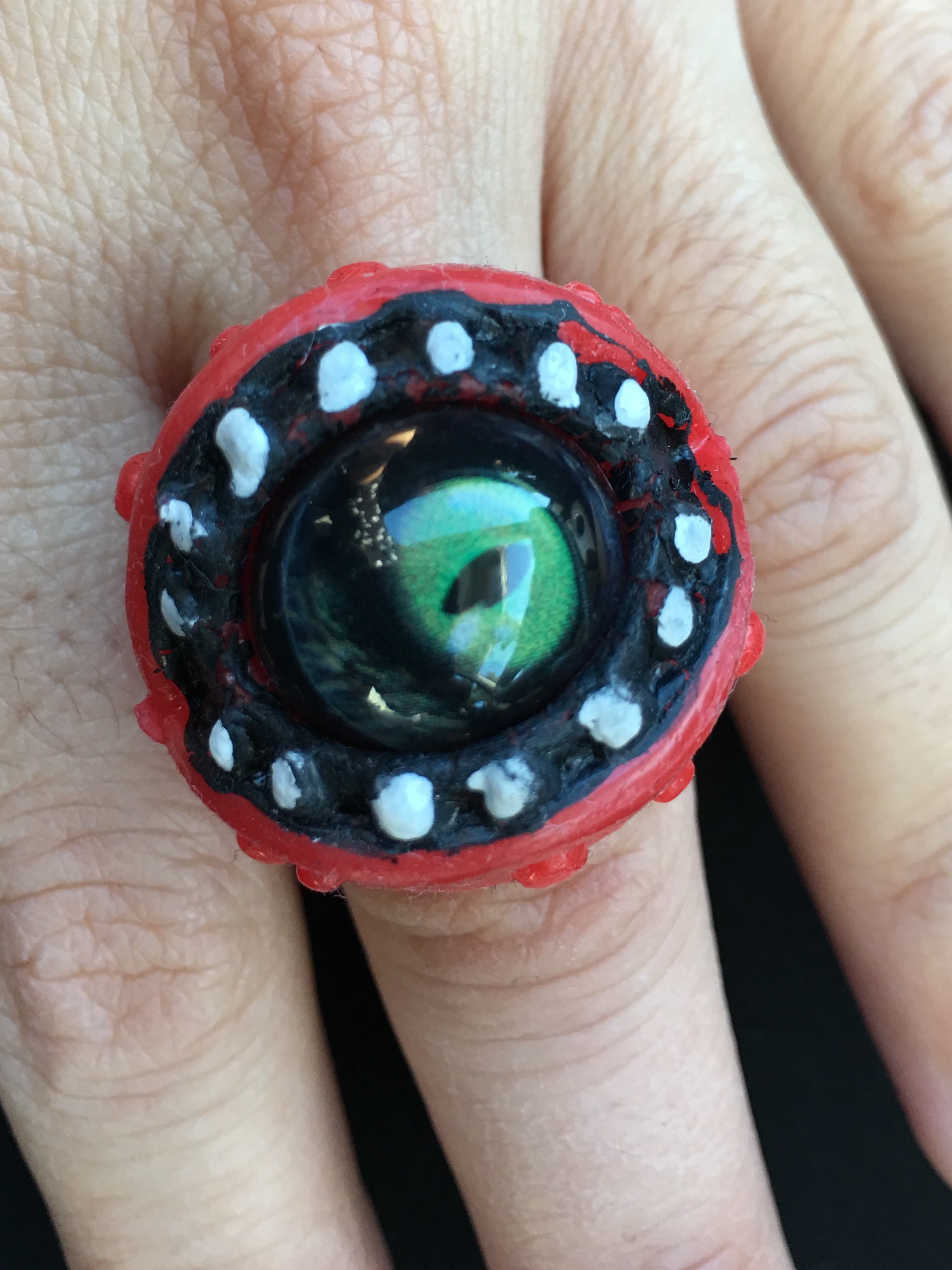 For the mummies of the group I bought some rubber rings and with creepy eyes also from Tiger 
Party Deco and Supplies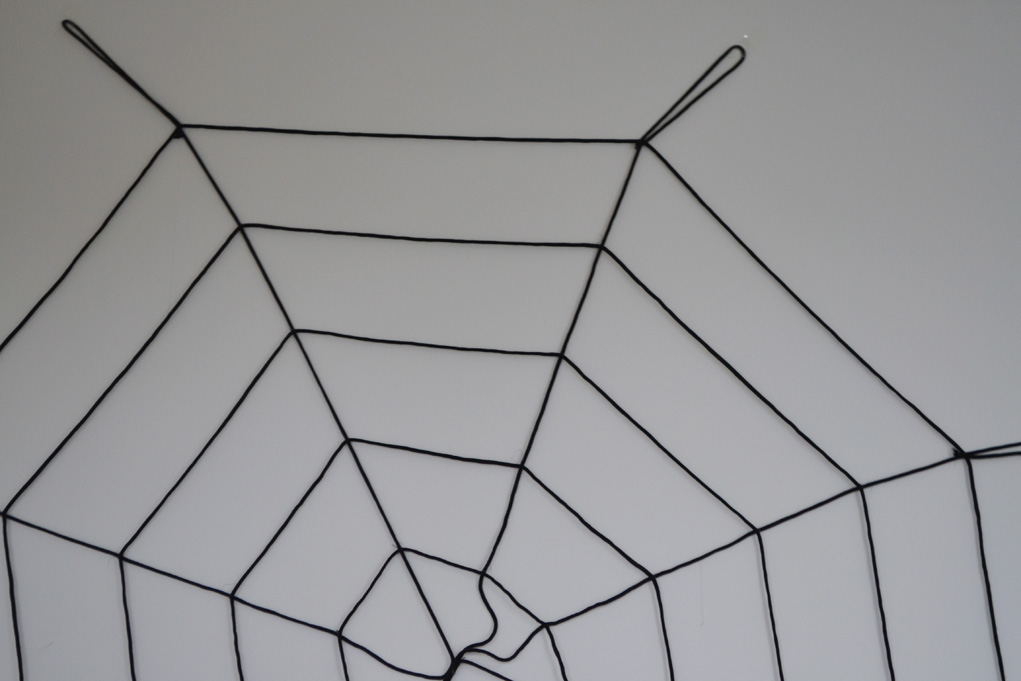 In Athens you can find Halloween party deco and supplies in some Jumbo stores and at Tiger stores. Also you can find tasteful things for your party  εδώ, εδώ και εδώ ! 
In Athens you can find Halloween party deco and supplies in some  tores at Tiger stores. Also you can find tasteful things for your party  here, here και there ! Our party supplies were bought from the on line store of H&M. 
The candy bar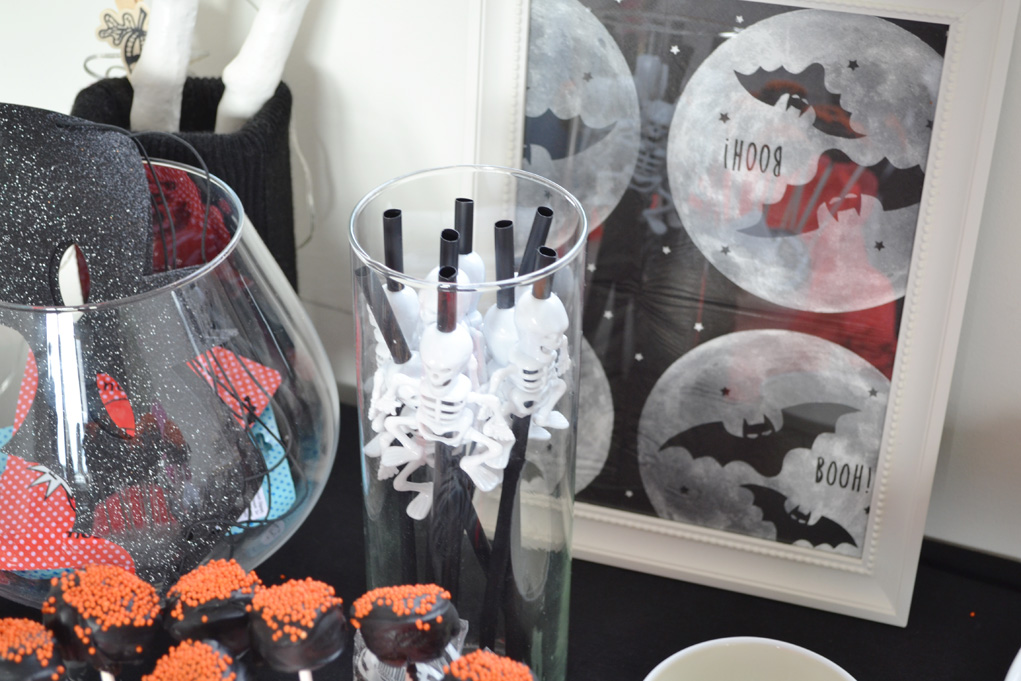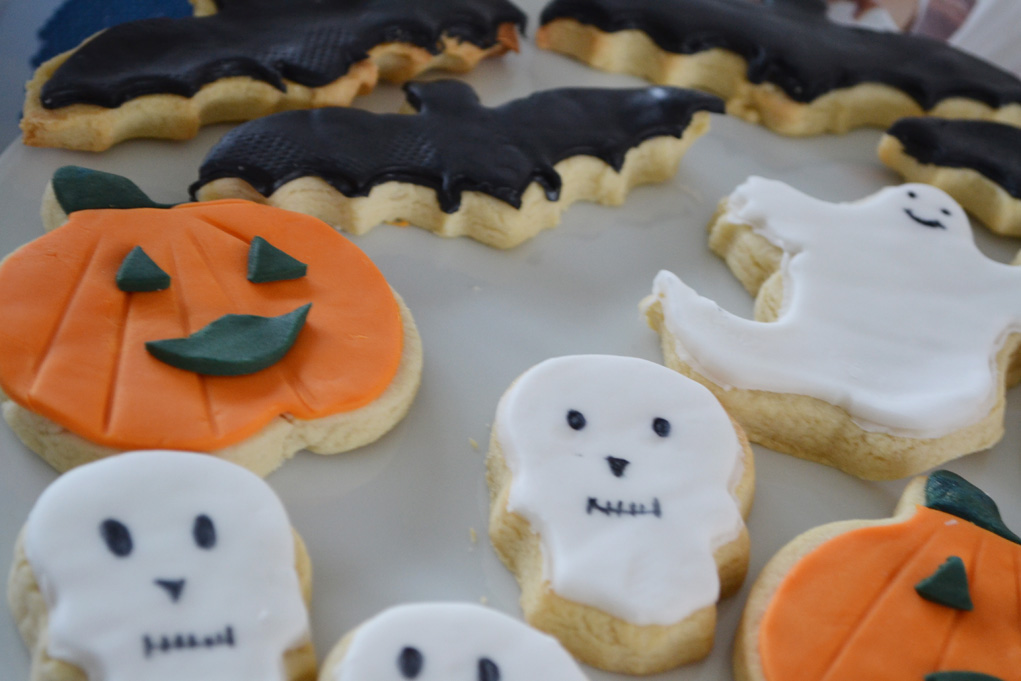 I fell in love with my Halloween sugar cookies. You can find the recipe here, the cutters here and the edibles here.
You can find the cake pops and cupcakes recipes at the end of the post. To decorate my buffet pic frame I put in a themed paper napkin and I was all set. 
To μενού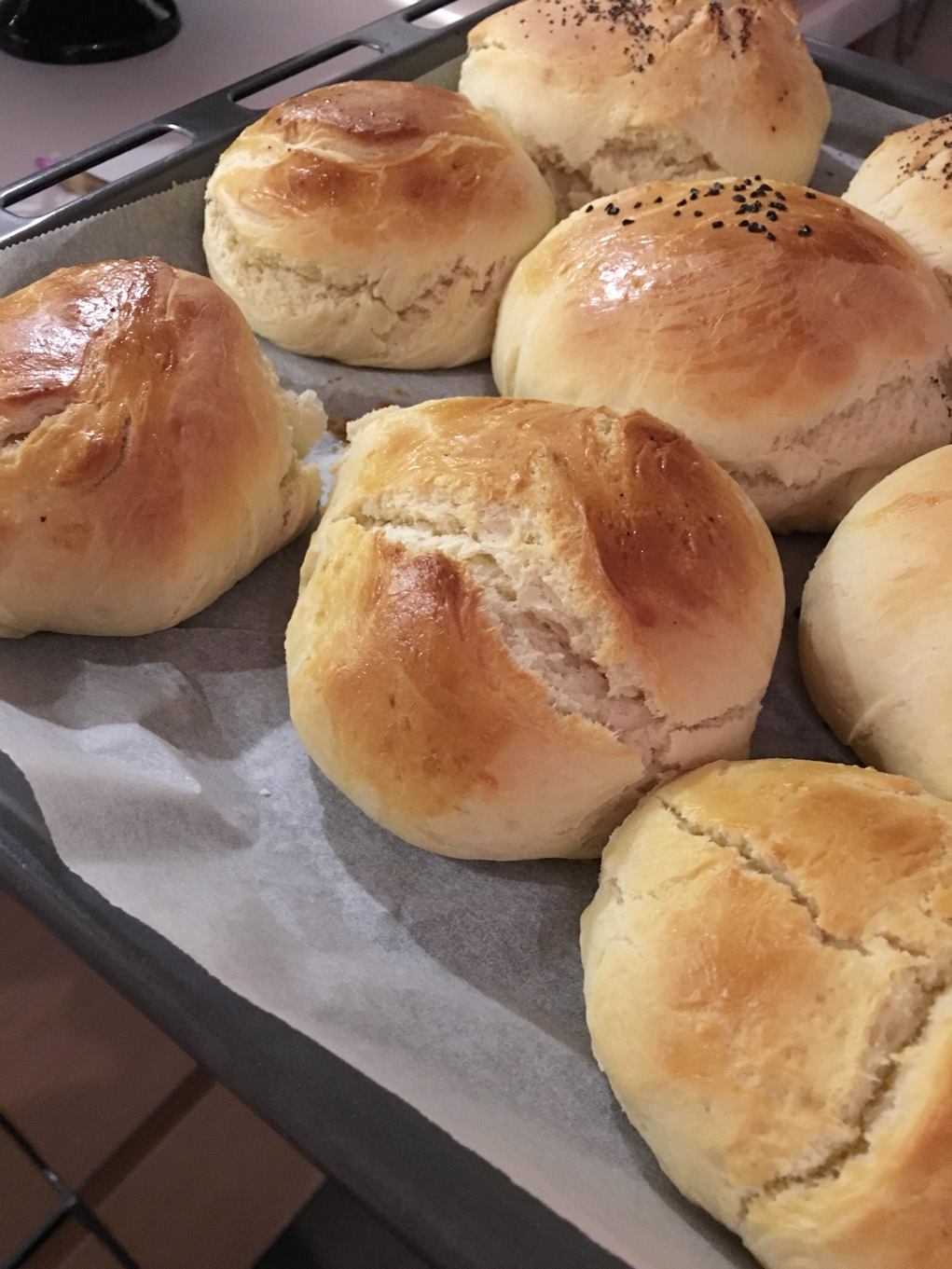 Our menu was all American : home made burgers, hot dogs mummies and green salad. And a caramel apple sangria and soda for drinks. And a lot of candy. It was not a day for diet last Saturday, that's for sure. I baked my own bagels the night before the party. The recipe is from co blogger Ermioni and you can find it here (in Greek). You must check out the recipe it's really amazing. For the burgers I used this recipe. It makes very tasty and fluffy burgers. I just had to adjust the ingredients for more burgers. The hot dogs mummies and the caramel apple sangria can be found in my Pinterest board here. 
So this was our mini Halloween party. We really enjoyed it both kids and adults ! Really looking forward to our next one
Halloween Oreo Pops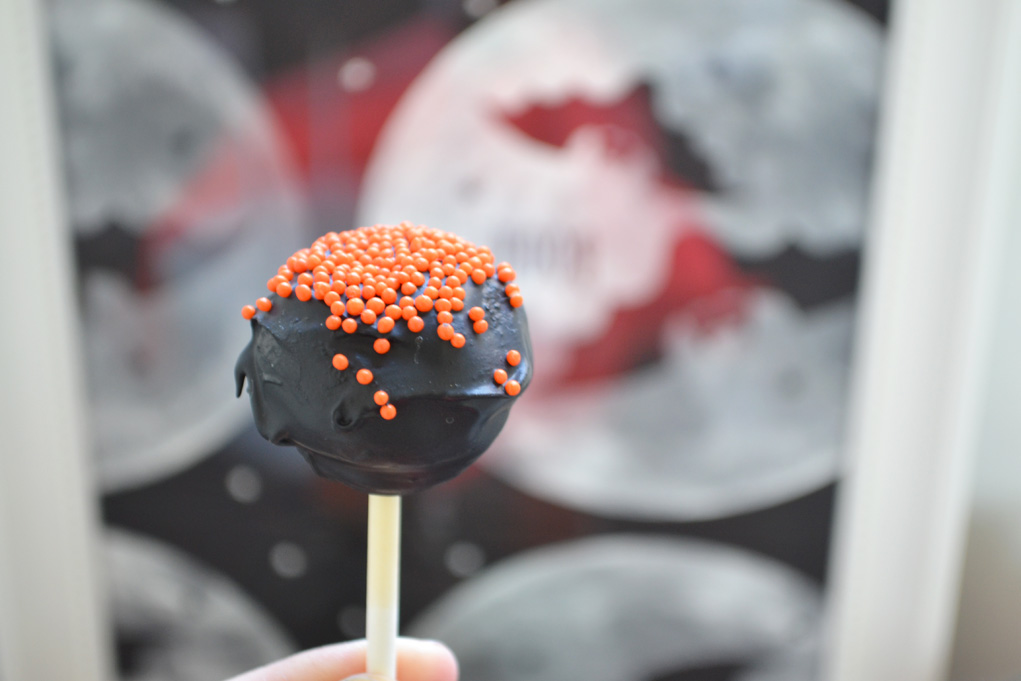 Yield: 20 bite sized pops
Ingredients
24 oreo cookies
150gr unsalted cream cheese in room temperature
20 lollipops sticks (you can find them here )
250gr black candy melts (used these ones)
orange round sprinkles ( got them from here)
1 large foam base
Instructions
Crash cookies in the food processor
Add the cream cheese and mix until you get an even paste
Make bite sized balls and place them on a plate coated with cooking paper.
Refrigerate for 30 minutes
Melt the chocolate in a bowl.
Remake the balls if they got flat and dip the lollipop stick in the chocolate and then into the balls.
Place them once again on the plate and put back in the fridge for at least 4 hours (preferably overnight)
The following day melt the candy melts in low temperature and dip the pops all the way. With a teaspoon spread evenly the black chocolate and rinse with the sprinkles. Place them on the foam base and let them cool off .
Notes
The initial recipe is from fellow blogger Maria (Swan Ocean ) (check it out
here)
Chocolate Cupcakes with bloody buttercream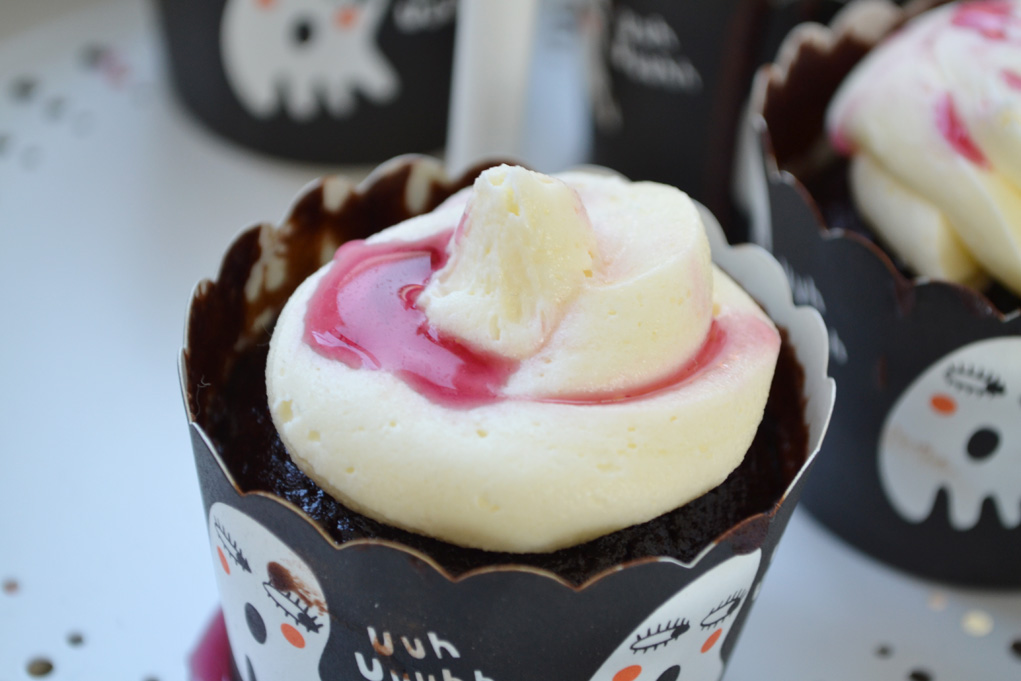 Yield: 20 cupcakes
Ingredients
63gr cocoa powder
140gr self arising flour
half teaspoon sea salt
3 eggs
150gr white sugar
150gr brown sugar
120ml vegetable oil
3 tsp vanilla extract
200gr yogurt
[brButtercream
125gr butter in low temperature
125gr icing sugar
cherry syrup
Instructions
Preheat the oven at 175 degrees Celsius
In a large bowl beat the eggs and the sugar
Add the vanilla and mix
Shift the cocoa over the mixture and mix until you get a chocolate paste
Add the oil and mix.
Shift the flour and the salt and gently fold them to the mixture.
Spread the mixture in 20 cupcake molds or cupcake papers place in a pan.
Bake for about 30 minutes and place them on a rack to cool
For the buttercream beat the butter with the icing sugar with a standing mixer in high speed until you get a white creamy effect.
Place the buttercream in a large thick plastic food bag. Cut the edge and decorate the (cold)
Pour the syrup for the bloody effect.