In Athens, the weather just got a little colder finding me still in a summermood. This year I just can't realize summertime is over. Every year in October I am already planning Christmas decorations and cooking. This year I decided to get along with the weather and get the most of each season (as soon as I realize I have to put away my swimming suit). Autumn is a really misunderstood season. Good thing Penelope is constantly reminding me how wonderful autumn is, by drawing every leaf gets along. And these family walks without the summer heat are just amazing. And let's not forget the cakes. This swiss roll is the first cake of the season (after the caramel apple pie). It is light and delicious just like fall. The lime and red fruit give a bit of sour taste I adore in cakes . 
I admit swiss rolls really give me a hard time up to now that is. Thanks to Tapis Roulade mold of  Silikomart made it a piece of cake this time. The ultimate tip for swiss roll is not to overbake. And to stick to the recipe. The filling is ridiculously easy to prepare. So next time you have friends over for coffee or tea, bake this roll, decorate with icing sugar and impress them away!! 
So happy fall people!! 
Ρολό κέικ με lime & φρούτα του δάσους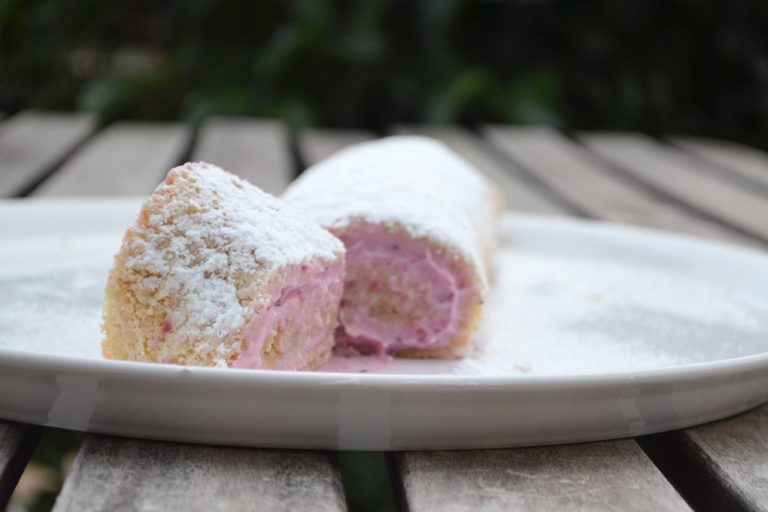 Yield: 10 to 12
Ingredients
3 eggs
¾ cup (174gr) sugar
3 tbp lime juice ( 3 limes) & zest
¼ tsp salt
1 tsp baking powder
¾ cup (127gr) all-purpose flour
150gr mascarpone cheese in room temperature
60gr defrosted red fruit
250gr icing sugar and some for spreading
1 tsp vanilla extract
Instructions
Preheat oven at 175 degrees Celsius
In a large bowl shift the flour with the baking powder and salt
Beat eggs and sugar in a standing mixer
Add the lime juice and the ¾ of the zest
With a silicon spatula incorporate the flour mixture smoothly
Place the mold on the oven rack
Spread the bater evenly on the mold and bake for 10 minutes
Leave it to cook for 5 minutes and then place the cake over a towel with icing sugar on top
Roll the cake very carefully leaving the towel out of the roll
Leave it over cooking paper to cool
Prepare the filling by smashing the red fruit in the food processor
Mix the mascarpone cheese with the icing sugar, the rest of the zest, the vanilla extract and the smashed red fruit
Unroll the cake and spread the filling leaving some space along the edges
Roll once again and refrigerate.
Decorate with icing sugar