This apple pie was a work in progress for a while now. It all started from a fb timeline video. It seemed so yummy and easy to make I just had to make it. The recipe described was an epic fail! I tried it twice and I ended up throwing away burned apples and me being mad and frustrated. I hate throwing away food even the burned one 🙂 At this point I knew I just had to make it happen! And to make a video for all those not having the energy / time / money to spend for a recipe that does not work. I studied what went wrong and last Sunday I ended up making it and filming it.
I had a very good cause for making it happen. The second craft of our emagazine C2. This time our company got bigger and friends of our magazine joined us for a crafting experience! So me got together nine in total bloggers Efi  (Cheap Smart Toys), Mary (Swanocean), Katerina (Sundayprojects), Marialena (Marmalena, Polyanna's Days), Anna (Journey Into Creativity), Eleni (CraftwithMom), Zina( Efzin Creations) who was also the host, me and last but not least Maro(Akamatra).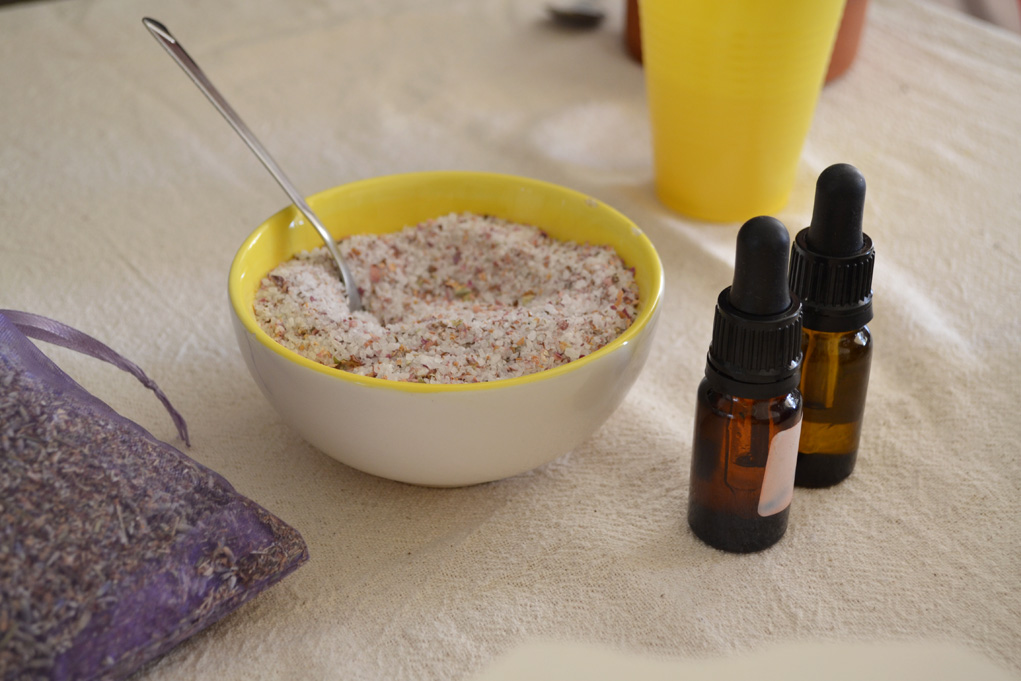 We made so lovely things last Sunday! All ideas and projected by Zina. The first project were bath salts. They just smell wonderful! The second craft was a super lovely hanging case made from fabric and an emboiredy hoop.!! You can check out my creations in the pics below! It was such a wonderful experience crafting again 🙂  
More photos of our Craft Party Vol 2 on our facebook page here . At this point I personally want to thank our lovely sponsors who offered materials with love and we are forever grateful :
– Emboidery Hoops and sewing materials from MarMaLena 
– Essential Oils from Hobby Factory – Dimiourgise.gr
– Sea salt and lavender from Terra Delicia
– Fabrics from Kritikou Shopping Therapy
The apple pie above was my contribution to the lovely company ! All girls said a good word (it was expected they have to be polite 😉 ) However I saw empty plates. And I ate my whole piece. So this counts for something, right? I really recomend this recipe its nice and easy and the only fancy thing you need is an oven proof skillet! Many thanks to sweet and supportive hubby who help me with the flipping thing. Lovely tool the skillet but quite heavy for me. If it wasn't for Yiannis you would have a good lough looking at two hands and feet trying to flip this succer and film at the same time !
Skillet Caramel Apple Pie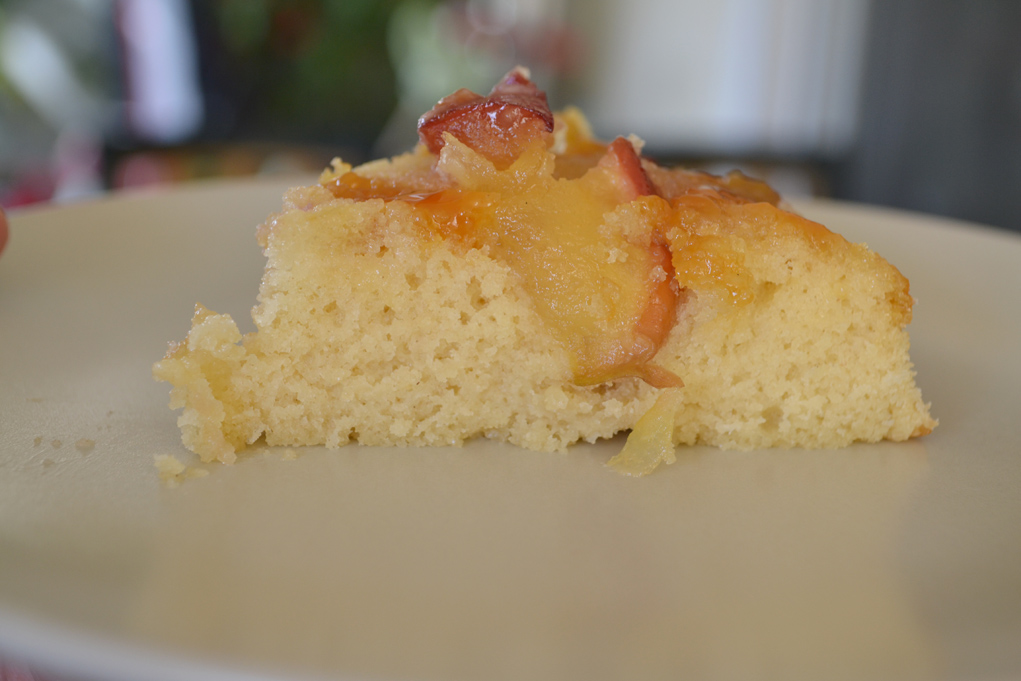 Yield: 10 to 12
Ingredients
1 apple washed and cut in cubes
6 tbsp sugar
6 tbsp water
2 eggs in room temperature
½ cup(134gr) sugar
183gr milk
64 gr butter melted
¼ tsp nutmeg
1 tsp vanilla extract
1 shot brandy
1½ cup (233gr) all purpose flour
1 tbsp baking powder
Instructions
Preheat oven at 175 degrees Celsius
In a skillet or other oven proof pan pour the water and the 6tbsps sugar in medium fire
Add the apple cubes and stir until the syrup gets sticky with the apple
Leave aside
In a bowl shift the flour with the baking powder and leave aside
Σε ένα άλλο μπολ χτυπάμε τα αυγά
Add the sugar, milk, butter, nutmeg, brandy and stir well.
Add the flour mixture and mix until the batter is even
Spread over the skillet making sure the apples are under the batter
Bake for 10 to 15 minutes.
Let it cool for 5 minutes and flip the skiller on a large plate
Decorate with some toffee sauce.
Notes
Το τηγάνι που χρησιμοποίησα είναι από μαντέμι. Εναλλακτικά μπορείτε να χρησιμοποιήσετε ένα στρογγυλό ταψί που να χωράει στο μάτι της κουζίνας ή ένα τηγάνι με αποσπώμενο χερούλι
See you soon girls and good luck to whoever try my recipe!!