I am back from our summer vacation full of energy and motivation!! Ready for the upcoming winter 😉 ! I really hope you had a blast this summer, to still be on vacation, or even better, to getting ready for holidays in the next days!
I turned the blog on vacation mode, withour really giving it a lot of thought! Hopefully it's really patient with me and was up and ready as soon as I put in my log in credentials in the platform :). Hope you can show the same patience with me. My dear readers really know the tough time I had the past winter (wining all the time about the pressure and anxiety of my everyday life…). As far as I can see this winter my program will be as tight, so I am hoping to (ok it's just a hope) better time management from my part. For some reason I always make the new year's resolutions on the end of the summer. This is when I decide to lose weight, eat clean, reorganize my space etc. Seems I am always on the-beggining-of-the-school-year syndrom. This is exactly the discussion I had with my dear friend Vera who feels the same as me, so ok I am not the only one.
 Enough with my chit chat. Let's cut to the chase… or to the dessert to be more exact. This is the easiest -ever- icecream you can make. Just three ingredients and not added sugar. My kind of desserts. Also, this was my birthday cake since on my birthday on August 17th I was on board, so no cake then. Not that I am complaining,  the best part of having summer birthdays is that you can be on vacation!
So, if you are thinking of an easy to make dessert, you can always try this nutella icecream. With the mould Mini Dome of Silikomart you can come out with a stunning looking dessert ! Let's check out the recipe:

The easiest nutella icecream!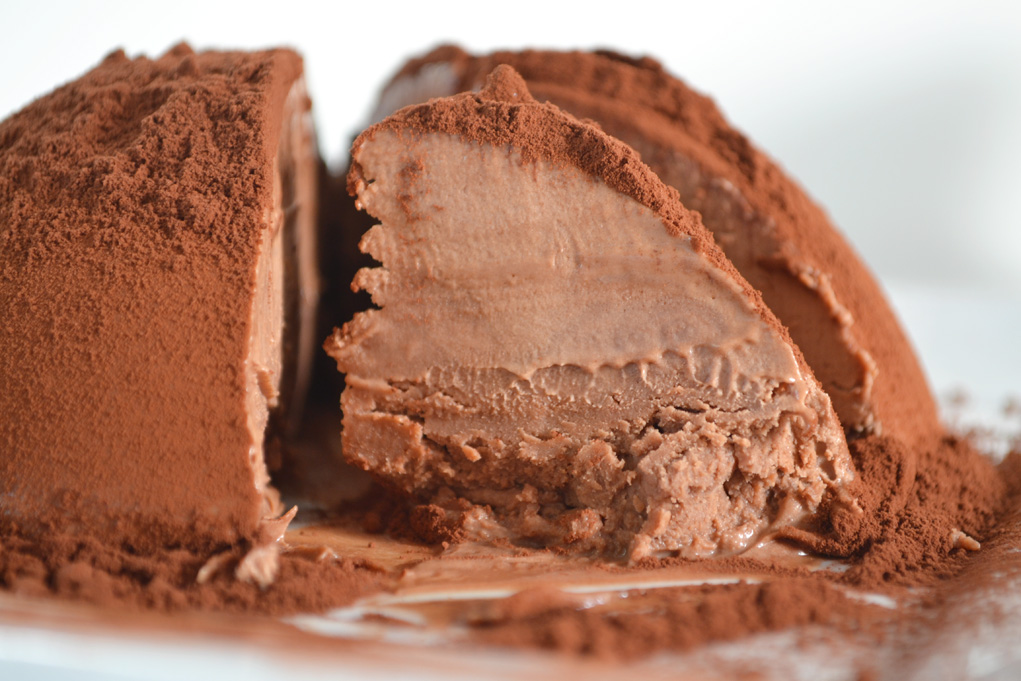 Yield: 2 to 3 servings
Ingredients
200gr greek yogurt ( 2% fat)
150gr nutella spread
1 tb raw cocoa for decoration
Instructions
Mix the yogurt with the nutella in a bowl.
Empty the mixture on the ice cream maker maching and follow the instructions.
On the end of the program, put the icecream on the mould pressing it with the back of a tablespoon to evenly fill the mould.
Freeze for about an hour.
Release the icecream from the mould and spread the cocoa on the surface using a small strainer.
Serve immediately
Notes
If we don't have an icecream maker machine we can use a mixer. The icecream texture will be different.
The mould Mini Dome was a gentle offer of brand
Silikomart
and you can get yours
here
.