We are already in the middle of summer. And in the middle of our summer holiday with Yiannis, trying to relax as much as possilble (sometimes it's just impossible) and get ready of the upcoming winter.
I confess I have no desire to cook anything hot. My mind is dreaming of smoothies, ice-creams and everything frozen. These cheese bites can get you motivated to enter your kitchen. It is an immediate hit every time I make them. I used to make them with Philadelphia cheese stick when it was available in Greece (now it's not : ( )  αυτό. I really miss this cheese from time to time. In any case the classic cream cheese makes the job. If you follow my tip in assembling them you will be just fine. The specific cheese bites were made of the Blogger's Wine Night Vera hosted. You can see all about it here.
And now imagine: outdoors, white wine and these cheese bites… Are you thinking anything better for tonight?
Cream Cheese Bites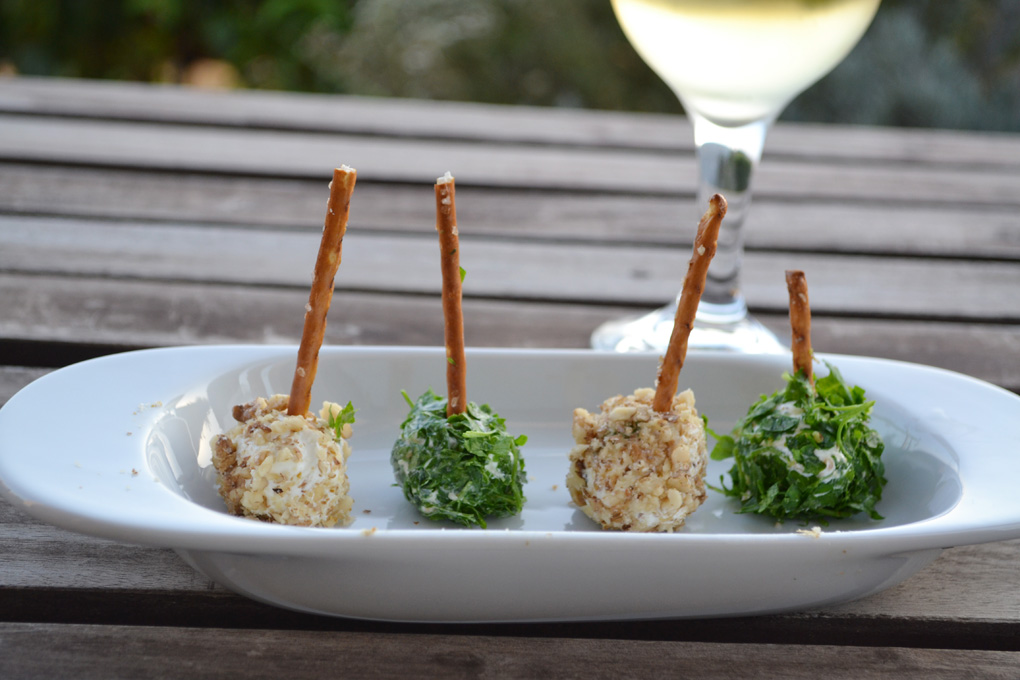 Yield: 30 bites
Ingredients
600gr full fat cream cheese
125gr peeled walnuts.
40gr parsley leaves
15 pretzel sticks
Instructions
In the food processor crash the peeled walnuts in large chunks. Place them in a plate
Clean the processors bowl and chop the parsley leaves. Place them also in a plate
Put on silicon gloves ( this helps not to get the cheese very sticky) and with the help of a tea spoon make bite sized balls. Roll half of them in the crushed walnut and half on the chopped parsley.
Break the pretzel sticks in two pieces and place them on top of the cheese bites.
Refrigerate for 5 minutes and serve.
Notes
You may replayce the walnuts and parsley with many other ingredients: try almond chunks, rocket, red pepper… endless choices.