This week is coming to an end and the weather prediction promised a summer-like weekend. I am really looking forward to a weekend without tons of obligations and events (kids' parties, games etc. all parents out there know what I am talking about). Of course everything would be better if Penelope was not under with a cold, but I supposed one cannot have everything, right?
Being in the mood of an early summer weekend, I strongly propose to try making this pasta. So easy to prepare, giving you the time and space to enjoy the good weather. It is so colorful and it smells amazing! For you not eating cheese, you may omit the parmesan in the recipe. Cook this pasta, have a glass of chilly white wine and enjoy it outdoors. You can dream of summer in April. So, let's check out the recipe!
Avocado Pesto Pasta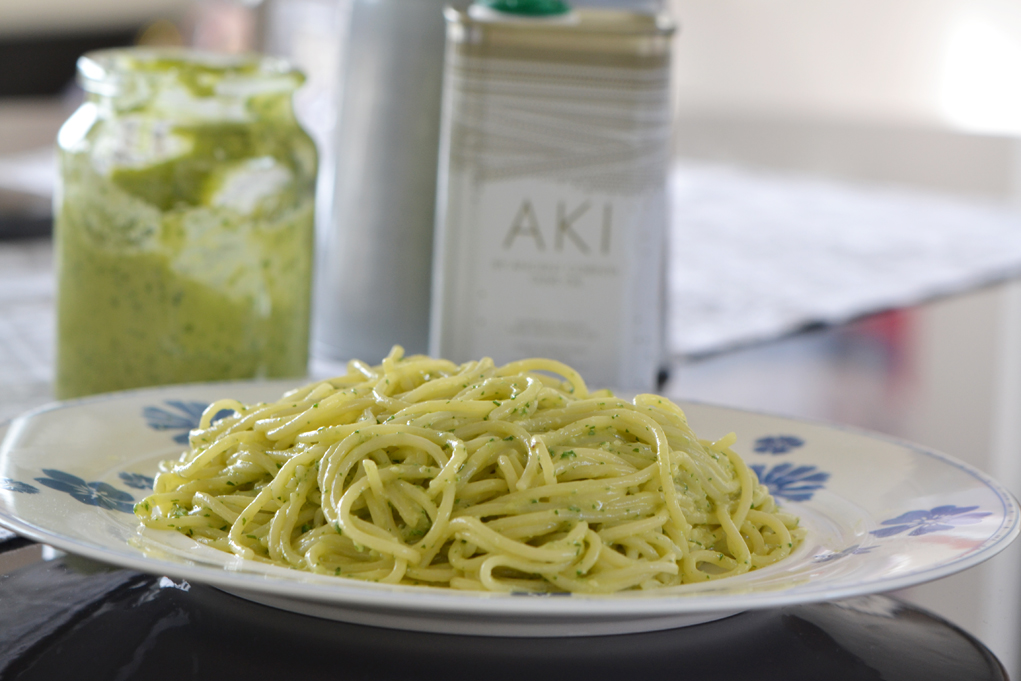 Yield: 4 serving( 272gr of pesto)
Ingredients
500gr spaghetti
2 cups (28gr) fresh rocket
1 well done avocado αβοκάντο (128gr)
¼ cup (33gr) pine seeds.
⅔ cup (98gr) extra virgin olive oil AKI
¼ cup (23gr) grated parmesan
10gr lemon juice
Instructions
Slice in small pieces the avocado and rinse the rocket.
Put all ingredients except for spaghetti in the food processor and mix until there is an even paste.
Cook spaghetti according to package instructions in salted boiling water and in an open large pot.
Rinse the spaghetti and place them back to the pot.
Add the pesto and mix until the paste goes all over the spaghetti with the stove shut down.
Serve immediately
Notes
I want to thank the brand
AKI
for offering the extra virgin olive oil.