For starters, let's admire this amazing cake mould that since I bought I use almost exclusively for baking my cakes. It is this one. I love how cakes look with this mould. It's like a small village. Especially with the sugar on top is like a Christmas scenery. And this is for me the beginning of my Christmas mood. 
Last Saturday I used almost every piece of a pumpkin we bought for carving and never did anything with it. 
In my instagram highlights you can see how I cut and used almost the whole thing. Most of the pumpkin puree was put in the freezer. But I kept some to bake this juicy and aromatic cake ! That the smell of it takes you straight to Christmas. 
If you do not have the time or appetite to make your own puree, you may find precooked pumpkin in almost all greek supermarkets. 
Baking this cake makes the whole house smell like Christmas. And this is how we can get in the mood. 

Κέικ Κολοκύθας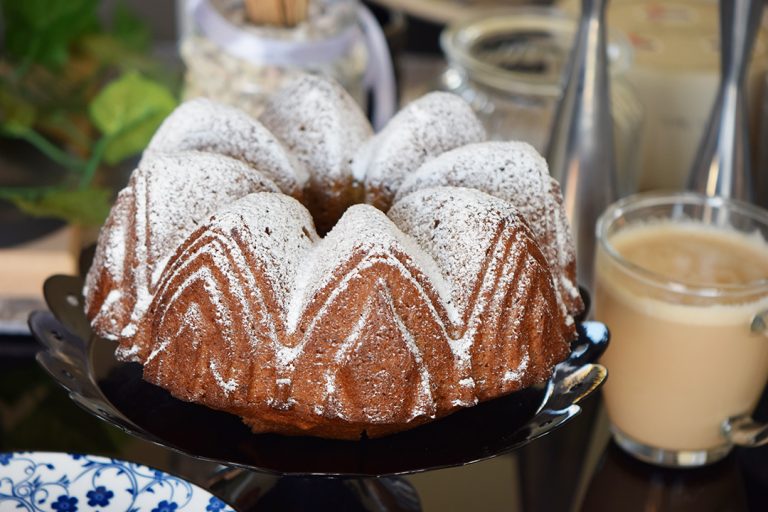 Yield: 1 22cm cake mould
Yummy and juicy cake ideal for the autumn season
Ingredients
350gr all purpose flour
2 tsp cinnamon
½ tsp. ginger powder
½ tsp. grated nutmeg
⅛ tsp. glove powder
1 tsp baking soda
¾ tsp baking powder
½ tsp sea salt
174gr white sugar
174gr brown sugar
240gr vegetable oil
3 eggs at room temperature
1 tsp vanilla extract
400gr pumpkin puree
1tbs powdered sugar for topping
Instructions
Preheat the oven at 180 degrees Celsius
In a bowl mix all dry ingredients expect for sugars
Put all remaining ingredients (besides the powdered sugar) to the mixer bowl
Mix at medium speed to get an even mixture
Add the flour mix and with a spatula incorporate with gentle upward moves.
Fill in the mould at ¾
Bake for 70 minutes until the knife gets clean from the centre of the cake. Do not underbake since the mixture is quite runny and needs the proper baking time
Let it cool for about 15 minutes and the demould and leave it on a cooling rack.
Spread the powdered sugar to a totally cooled cake using a small strainer.
It can be kept to room temperature and covered for a few days and then covered in the fridge.