During the past week it's getting cold here in Athens. I am snuggling as we speak under my living room blanket. This is how cold it is. The blanket for me equals winter. 
And don't get me wrong I am not wining. I love winter. And one of the things I like the most about winter is brunching. And having long and cozy breakfast meals during the weekends. 
This is how the recipe below came up: I was longing for a rich breakfast one Saturday. Also, there were some croissants in the pantry waiting for someone to use them. Long story short a Friday night I prepared the pudding, I baked it a soon as I woke up, went back to bed to snooze for a while set the timer and voila… a pudding. 
This is the ideal recipe when organising a brunch. It's a lifesaver really. You prepare it the night before, bake it just before the guests arrive and you dazzle them with flavour and aroma. 
Are you convinced yet? Check out the recipe and let me know 😉 
And now I can wish you Happy Winter! 
Peer and Croissant Pudding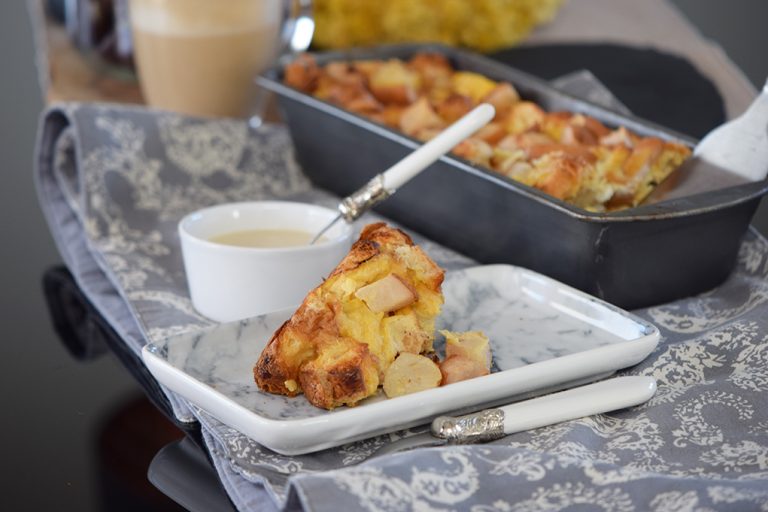 Yield: rectangular moudl with dimensions 30x12x6cm
An alternative pudding with croissant and pears.
Ingredients
12 small sized plain croissants (267 gr)
2 medium sized peers (264 gr)
25gr brown sugar
1½ tbsp lemon juice (4gr)
7 eggs
200gr milk
20gr maple syrup

for the glaze
220gr buttermilk
70gr maple syrup
Instructions
Chop the croissants in small pieces
Wash the peers, dry them and also cut them in small pieces
In a bowl mix the sugar and lemon with the pear pieces
In a another bowl beat the eggs and stir in the milk and maple syrup
Spread the croissant and pear cubes in a rectangular baking mould.
Pour a little of the egg mixture and keep on layering until the mould is full.
Finally pour the rest of the egg mixture, cover with a plastic wrap and refrigerate for at least 20 minutes (preferably a whole night)
Preheat the oven at 180 degreed Celsius
Remove the wrap, cover with aluminium foil and bake for about 60 minutes.
In a bowl mix the buttermilk with the maple syrup
Let the pudding cool just for a few minutes and serve with the glaze
Notes
Maple syrup may be replaced with honey (the taste will be different)
Initial recipe
here