And here we are at quarantine part 2 here in Athens! I think all of us were expecting the lockdown to come sooner or later. I thought it would happen a little later. This time a had a little harder time digesting the quarantine news. Maybe I was caught off guard. I really don't know. 
Of course my thought is with those who are really the ones suffering the severe economic consequences of the lockdown: the people who stopped working, who lost their jobs, artists and freelancers. All of us knew that this was going to be a hard winter but what is currently happening all around the globe seems like a sci fi movie scenario. 
But enough with that. This corner of the internet is all about creativity, joy and inspiration. Of course I do not live on my own cloud. I am just trying to get the best of the situation: getting to spend more time with my family. Staying in especially now that the weather is cold and windy. Having the opportunity to cook and bake more. And of course I blog more. This is my favourite part: Sunday evening with my favourite persons around me: Penelope playing, John lighting up the fireplace and surfing the net for his next project. Perfection ! 
The pasta recipe that follows have everything I love in pasta: easy to make, creamy and delicious and with few ingredients . The perfect combination. Of course the cold meat can be replaced. I just used what I had in my fridge. Of course you can add more spices. In my opinion you do not need any more in order to enjoy the sweetness of the chestnut. Let's check the recipe out and wish Greece a good lockdown!!

Chestnut and Cold Meat Pasta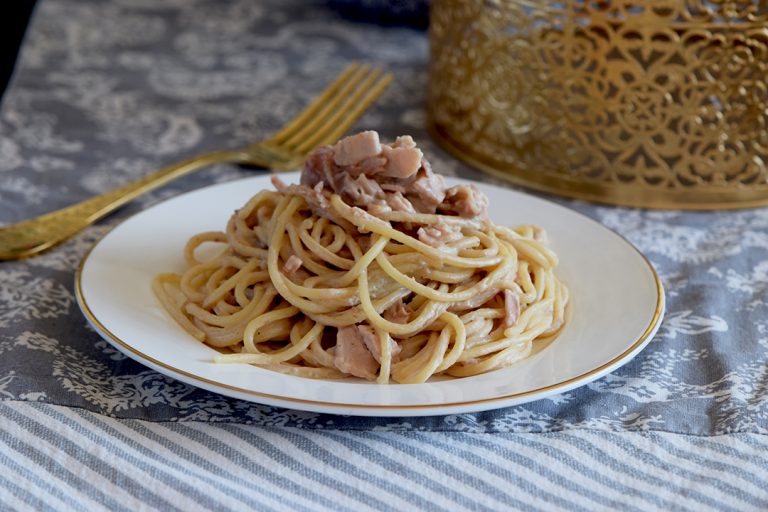 Yield: 2 to 3 servings
Super easy creamy pasta
Ingredients
1 pack vegetable broth
sea salt
150 gr back bacon μπακ
4 slices prosciutto crudo
200 gr chestnut puree
200 gr low fat heavy cream
300 gr spaghetti
Instructions
In a deep large pot fill ¾ with water and boil with the broth in high temperature. Close the pot to boil the water faster.
When the water reaches the boiling point, add salt and the spaghetti for as long as it is recommended on the pack instructions.
In a medium sized pot, cook the bacon sliced in small pieces at high temperature. Σ
Lower the heat and add the heavy cream and the chestnut puree. Mix to get the puree incorporated adding a little salt. Add the prosciutto sliced at the end.
As soon as we have a creamy sauce, add the strained spaghetti and mix.
Serve immediately, add your favorite cheese and enjoy!!