Today's post is the result of our culinary experiments during quarantine. The one of March- April. During the first wave of the pandemic. And here we are in the second wave. Let's hope to leave it soon behind as easy as possible. The (perhaps only) good of the whole situation is that we stay in more. And I have more time to post to my beloved blog. 
This is one of many recipes that were photographed, measured and left in some memory card. My intention is to bring them all to the light and share them with you. Its so nice to be able to look back and remember step by step how to prepare a lovely meal, a juicy cake or an extra special pastry. 
The salad you see above was one of our favourites during the period of the quarantine. And only that John tested and loved something that includes quinoa can be the only reason I have to share this recipe with you. 
Also, soon enough I will post my annual anniversary cupcakes ! This year my blog has become six years old. And so many lovely things have happened since I first clicked the post button for the first time… 
For the time being let's stay to something more nutritious and somehow low in calories. And I say somehow since the sauce you see below uplifts the salad in taste and in calories 🙂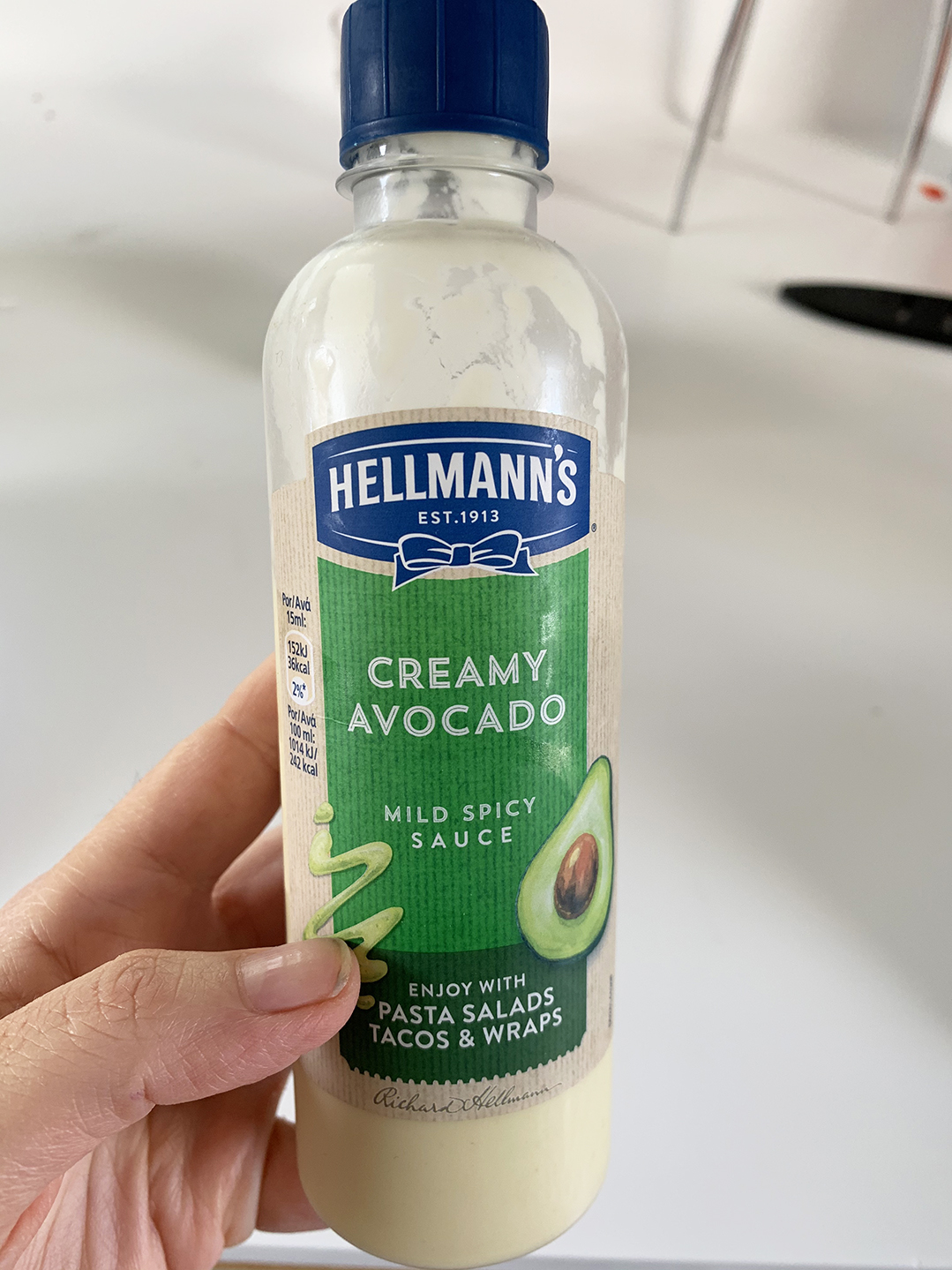 The taste of this sauce is truly magnificent (truly #notsponsored).  We use it in wraps, sadwiches and salads. You may find it in the super market on the mayonnaise self. Of course if you cannot find it you can easily replace it with plain mayonnaise. But this one has a wow factor. So if you find it , grab it.
Let's check out the recipe and see step by step the salad preparation. Let's make a rainbow in our kitchen!

Avocado Quinoa Salad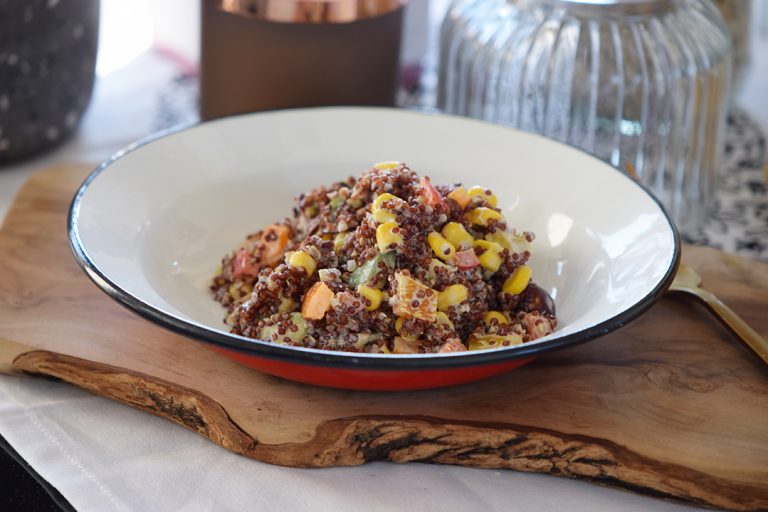 Yield: 2-3 persons
An extra yummy and colourful salad loaded with nutritious ingredients
Ingredients
200gr red quinoa
288gr water
1 portion of vegetable broth
sea salt
218gr colorful sweet peppers ( half red, orange and yellow)
200gr red kidney beans canned
150gr sweet corn canned
100gr mayonnaise
2 small avocados
2tsp black onion seeds
1tbsp lemon juice
1tsp mustard powder
Instructions
Rinse well the quinoa under running water
In a medium sized pot, pour the water with the vegetable broth and the salt
As soon as it reached its boiling point, add the quinoa, lower the heat to medium and close the pot to let the quinoa cook (for approx. 15-20 mins)
In the meanwhile slice to cubes the peppers. I always freeze the remaining for next recipes 😉
Cut in cubes the avocados and rinse with the lemon juice
Strain the kidney beans and the corn from their cans
The quinoa is ready as soon as it looks like this
With a spatula fluff it and let it cook while preparing the rest of the salad.
In a small bowl add the mayonnaise, the black onion seed and the mustard powder and mix
In a deep bowl add all other ingredients add the sause and mix
Enjoy