My biggest personal project this spring was planning Penelope's birthday party. Our baby girl this year turned five !!! She chose the birthday theme herself months ago: Girls Minions, Fairy Minion as per Penelope. Ok, I thought how would I ever find party supplies for this party !! My beloved
pinterest
offered the solution as usual : it seems that a girl minion party is quite popular so I had a lot of ideas for inspiration and resources. You can find my pinterest board
here
. For the greek speaking crowd I have prepared a whole set of printables in this link. For english speakers you can find a lot of free printables in the aboved mentioned pinterest board.
Ok then lets begin all the steps for planning a super girl minion party for you kid and for your guests!
The invitations
Social media facebook gave the solution for another year: the parent's had disposable all of the event's details and for me a got to download the guest list in csv format (wow?) This is the photo I used for the facebook event:


You may find a photo for your facebook event here.
These were our handmade party invitations for Penelope's classmates: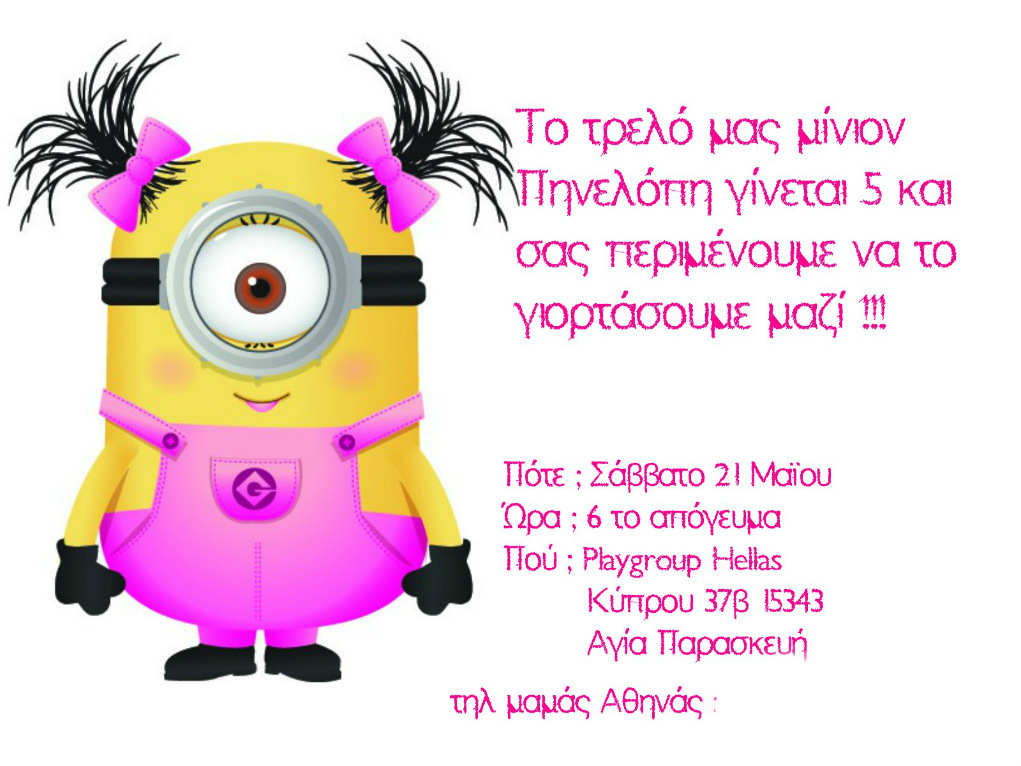 The invitations were printed on our home printer in 250gr papert (I gor it from here) and instead of envelopes I used transparent bags (sized 15cm x 21cm) bought from the center of Athens. Penelope gave the invitations one by one making sure to promote the event as the party of the year (not to lose any guest 🙂 )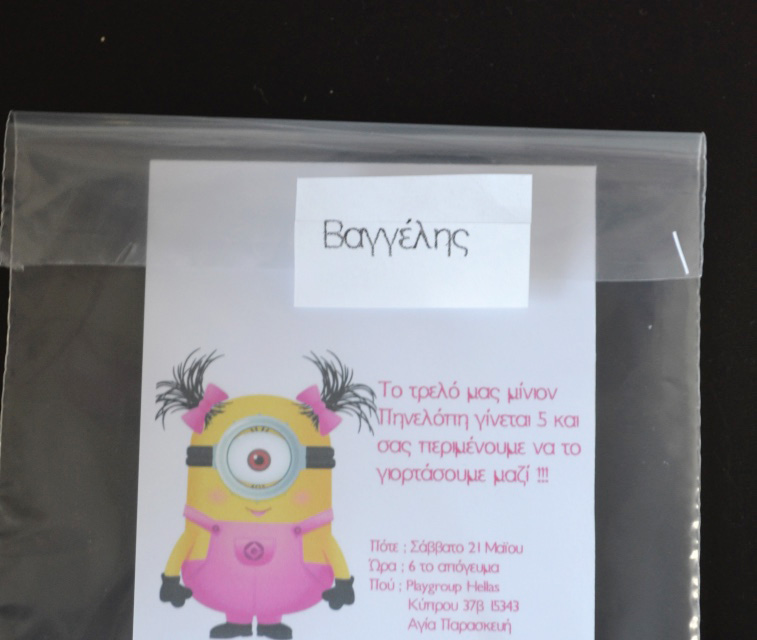 The party favors
This year the gifts were given in two parts : as welcome and fairwell presents. My preparation time was very very short this year sso I had to figure something that was easy to prepare and also suitable to the party theme: this is when a decided to make all my junior guests minions! For the girls minions I bought plastic alice band sold from a local toystore and glued on them little hair made from black chenille stems (got them from here). For the boys minions I had paper masks ( I got them from here).
As a thank you gift our guests got a transparent bag (the same us for the invations envelopes) filled with a minion bubble botte and a handmade cookie ( made by me)
Party Deco and Supplies
The party venue was our beloved Playgroup. As you can probably imagine I had a minion (:) ) ideas for the decoration of the space outside. My plans were held back by the weather forecast for electric storms! We were luckh enough not to rain during the party however my ideas were never realised…
The interior space was decorated with handmade banners printed in A3 sized plain paper. One of the walls was used as photo booth using these amazing printable photo props).
The party supplies were mostly solid colored in fuchsia and bright yellow. For the buffet I used a bright yellow plastic tablecloth.
The candy bar
This time I had the idea to set a mini candy bar for welcoming our guests. Our oven baked overtime and made some yummy Nutella and vanilla cupcakes. The cupcakes were baked three days before the event and preserved in plastic bags with zippers in the fridge. They were decorated with yellow sprinkles and yellow baking papers (supplied from pastry ideas). Banana Marshmallows were placed in a jar (got them from here). Pink Lemonade waited our guests (my mum's homemade lemonade with cranberry juice, which in my case was more too many to make the lemonade a deep deep pink color).
Το μενού
The menu
From the fellow blogger Aspasia (My Lovable Baby) which hosted an amazing birthday party for her youngest daughter (you can find it in Greek here) I saw the wonderful idea of having a child friendly separate menu. So I decided to do it myself for the party with a big help from my mother in law. The children's menu included a mini cheese pie, meatballs, mini fetuccinis , a plain salad plus a handmade chicken nugget. The lunch boxes were bought from here and the sticker on them was this (you can find it here) :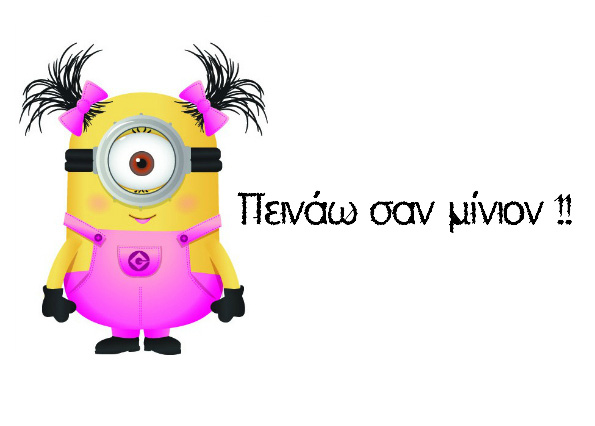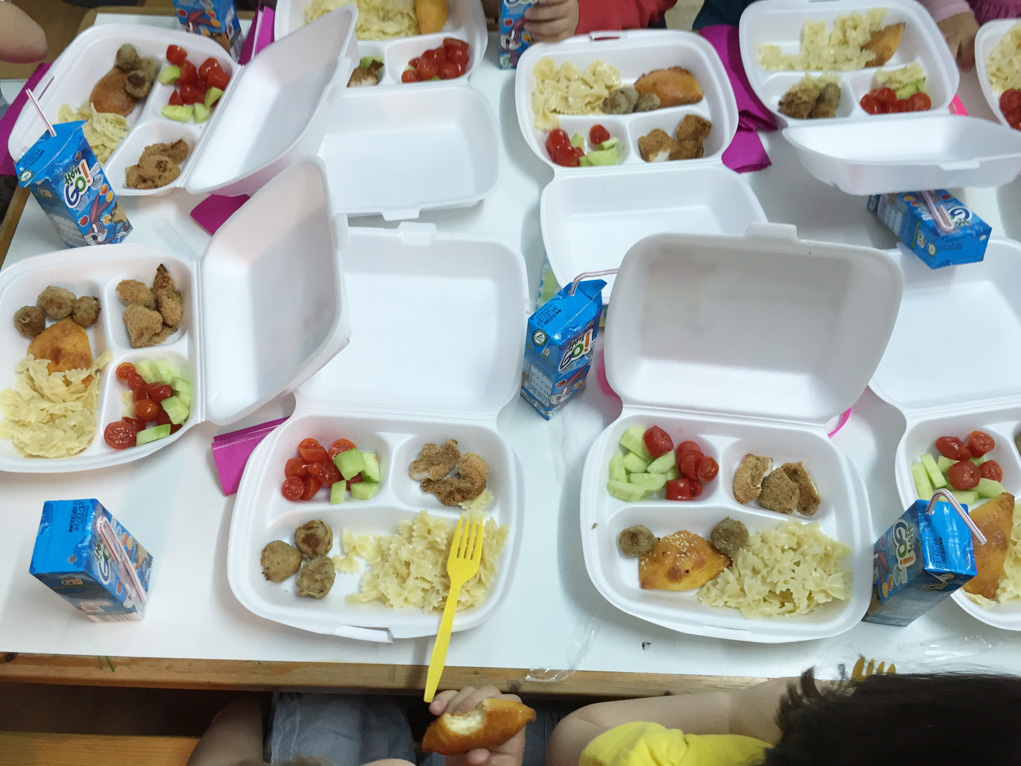 The rest of the menu was not photographed since I discovered that making 40 lunchboxes is quite time consuming so me and my mother in law were making them non-stop. The adult guests ate chicken nuggets, homemade cheese and spinach pie (from the beloved mother in law), pizzas (non-homemade) and an exotic pasta salad that I also didn't had the time to photoshoot.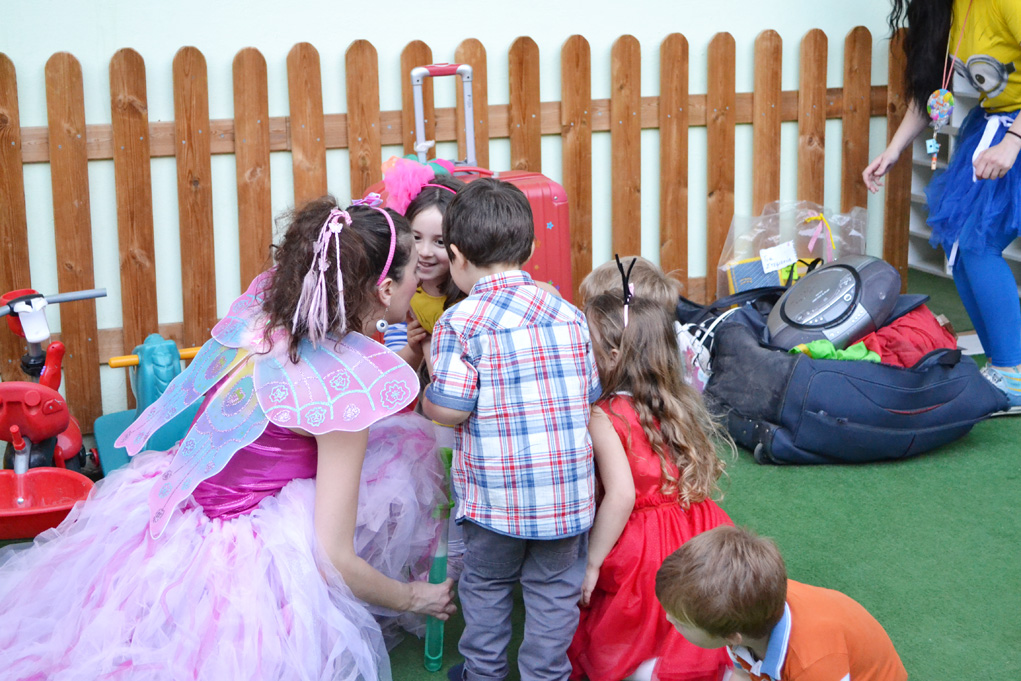 Our entertainers were Teta and Efi from Paidika Glentia as Minion and Pink Fairy. The kids played, danced, had face-painting and hit the wonderful piñata Christina made us as gift (thank you so much Christina!). Everygirl from Paidika Glentia is so amazing. They manage to make our party so special and leave such happy memories to my daughter. Thank you so much girls. As for Teta, there is love in the air, see for yourselves:
The birthday cake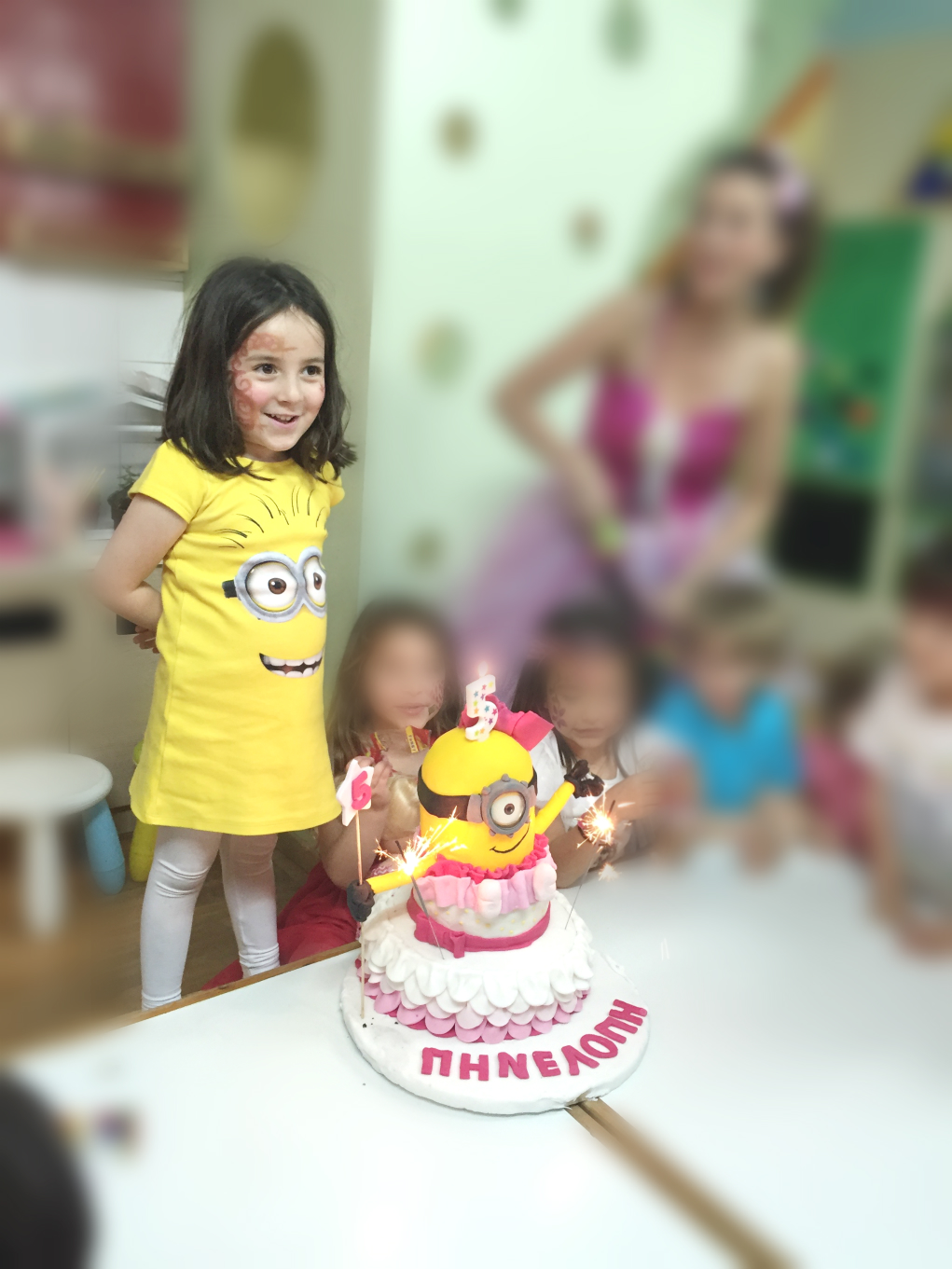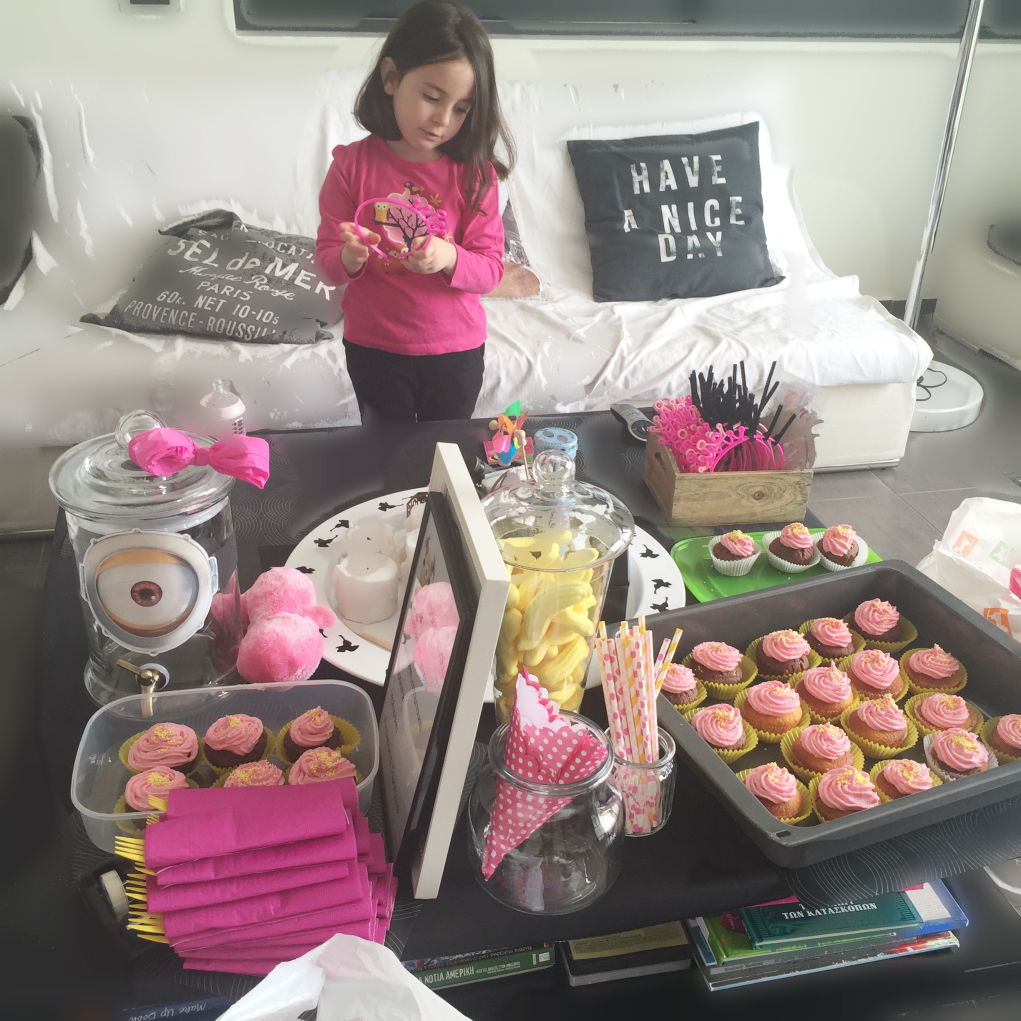 This year the cake escalated a level and was with three stories high!!! OMG!! I hope to make a post soon full with pics, tips and dos and don'ts in making such a cake. This year I experimented a lot with the recipes and discovered a super easy and ready to use strawberry mousse.
You can find each one of the party printable here. It also includes a plain child menu, food tags and water bottle stickers!!
The joy we gave to our girl is just indescribable. This is making everything worthwhile: the time and the money spent for planning her party. We are going through some difficult times and everyone's budget is so tight. Trust me: plan a party for just two guests: your kid will be so happy you won't regret it. It is such a happy memory for their childhood. Also, get every help you are offered (or you can ask for). For me, if it wasn't Giannis, my sweet mother in law, Christina and my mum I could never pull it off.
Happy Bday Penelope!! I wish only happiness and smiles in your life!!
P.S. Mama Christina's Pinata Tip: use mini fabric bags for the piñata giveaways to avoid fusses and fighting when the time comes to collect them!!