I really love making cheesecakes and whoever is a reader will have figured this one out by now. I've tried a snickers version, strawberry one, the classic (non bake) recipe, even in ice cream! The choices are limitless ! The one you see above was made for my mummy's birthday back in May! Oh yes my mum is typical Taurus and she adores all sweets as soon as they are white and not made of chocolate (ok I really makes me wonder that one!)  The meringues on top makes all the difference in this recipe! My advise is to place the meringues on top just before serving to keep them crispy and fresh! 
Happy Bday sweet mummy I wish you prosperity and many moments of joy with your granddaughter ! 
Caramel Cheesecake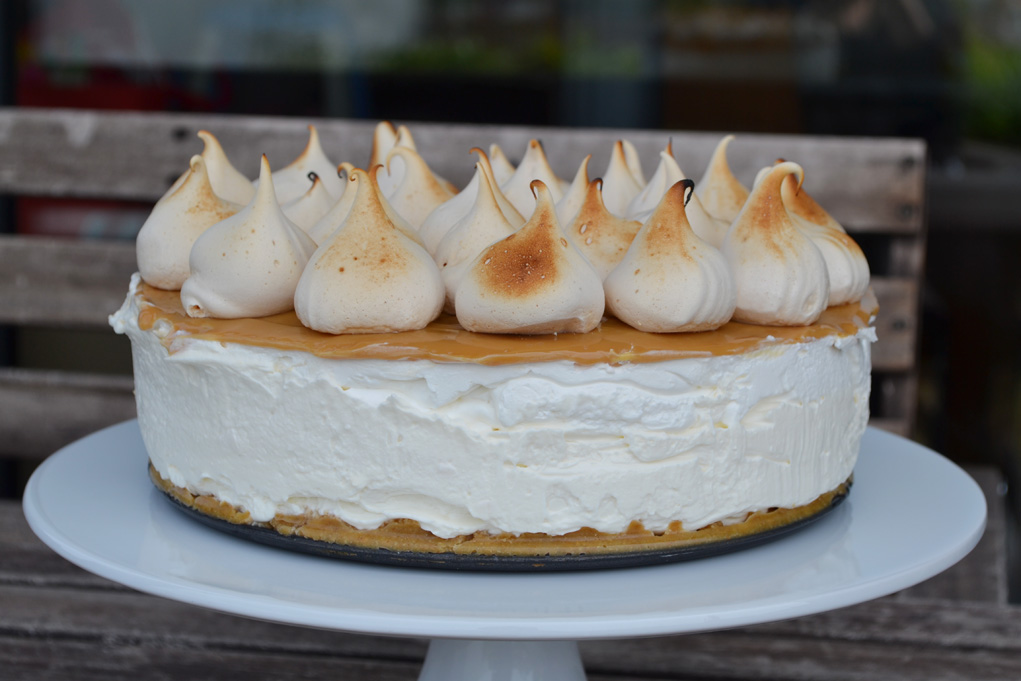 Yield: 1 round mould of 24cm diameter
Ingredients
4 eggs whites (160gr)
1 & ¾ cups (417gr) white sugar
1 ts vanilla extract
½ ts cream of tartar
4 tbs corn meal
1 tbs sea salt
250gr digestive cookies
100gr melted unsalted butter in room temperature
500gr unsalted cream cheese
250gr ricotta cheese
500ml vegan confectionary cream
¾ cups white sugar
1 can sweeten condensed milk
Instructions
In a large pot filled with water ( over the half of the pot always covering the can ) boil the condensed milk of one hour and a half in high temperature. Let it cool completely.
Preheat the oven in 120 degrees Celsius (air function)
In a bowl mix the 217gr of sugar with the salt, corn meal and cream of tartar.
In high speed mix the egg whites until the get white and then add as rain the sugar mixture.
Keep on mixing until you get a tight meringue ( when turning the bowl upside down the mixture stays pout ).
Spread cooking paper in a shallow and large oven pan.
Fill with the meringue a large confectionary bag (used a large zip bag).
Make small round meringues just by pulling up the mixture.
Bake for about 90 minutes.
Crash the digestive cookies in the food processor and mix them with the butter.
Spread them over a 24 cm diameter round mould
Mix the cheese with the rest (200r) of the sugar until they are smooth and even in low temperature.
Spread the cheese mixture on top of the cookie base.
Let it cool in the fridge overnight.
At least three hours before serving, spread the caramel from the can on top of the cheesecake.
Burn the tops of the meringues with a cooking torch and decorate them on top.
Remove the side of the mould and serve immediately.