Ok this was a huge heatwave for all of us in Athens Greece! The heat was just unbelievable. My timeline got full of pics showing the car temperature reaching 45, 47 (?) degrees Celsius! 
We tried we escape from the city since last Monday neither me or Yiannis were working but we just couldn't make it: all accommodation near the city was already booked and when we did managed to find a hotel room we could't get ferry tickets to go there… So we just stayed at our lovely home and had fun either way!
As you can imagine, getting near the oven or kitchen stove was just not an option. I fell in love all over again with my blender, this wonderful smoothie maker tool.. Oh and my ice cream machine. And that's it.
This is how the smoothie in the pics was made: it has strawberry, banana and chia seeds since I needed something gold and nutritious at the same time! Let's see the ingredients and hope you make one of your own in no time!  

Strawberry Banana Smoothie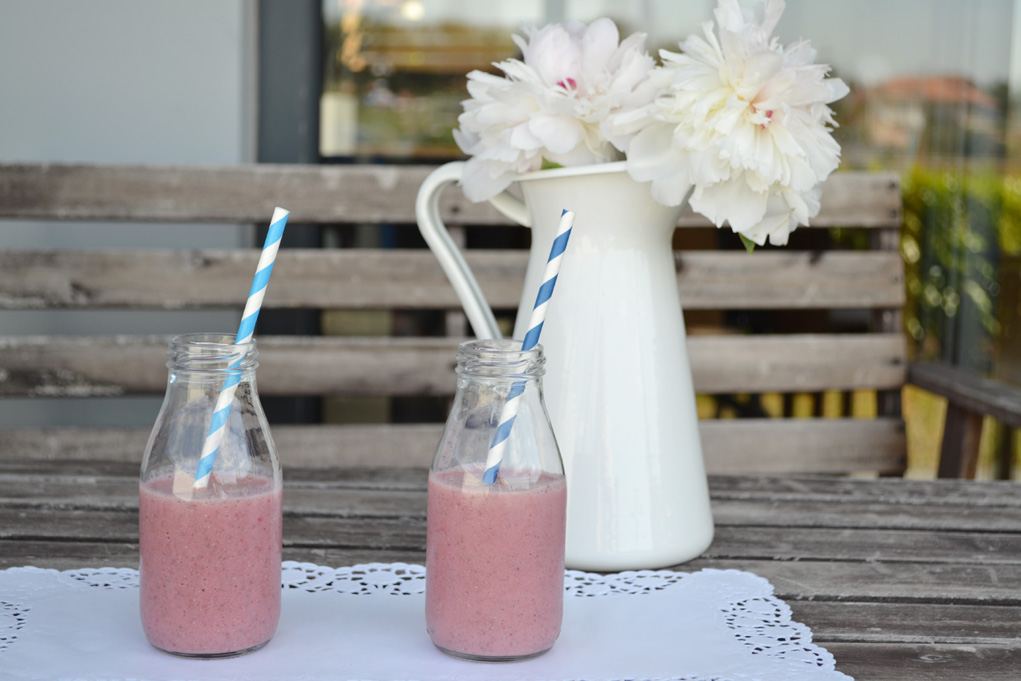 Yield: 2 small glasses
Ingredients
4 large straberries (119gr) cleaned and sliced
1 banana peeled (210gr) sliced.
60gr chilled milk (used low fat)
½ glass cruched ice (77gr)
1 tsp (4gr) chia seeds
2 tsp (7gr) marple siryp (can be replaced with watery honey)
Instructions
Place all ingredients in the blender or food processor.
Run motor until the smoothie is well blended.
Serve and enjoy