This is an official comeback and not April's Fool.  This must have been the longest I ever stayed away from blogging. And beyond the usual reasons (tons of work at the office as well in the household) there were other reasons also: I lost my godmother recently. I was very close to her, she was my second mother. Losing her was extra painful for the whole family. I really miss her a lot and since then I am trying to cope with the idea. 
Luckily my busy everyday schedule has helped me a lot. Also, the support from the rest of my close family is overwhelming and very much appreciated. 
So all this time, since she got sick until her the day we lost her, I really didn't want to blog. I tried to get over it through travelling, spending a lot of time with the rest of my family and keeping my mind busy. 
This doesn't mean that I stopped cooking. The recipe that follows is one that I enjoyed enough to get me to my photo spot and get some shots of my plate. 
It is vegan and tasty at the same time and includes one of my favorite ingredients: kale. 
Please keep in mind that kale is quite hard to swallow raw so if you are not up to it you can always replace it with your favorite green salad. 
I will try to be more frequent on my postings and try to follow that life goes on…

Kale potato salad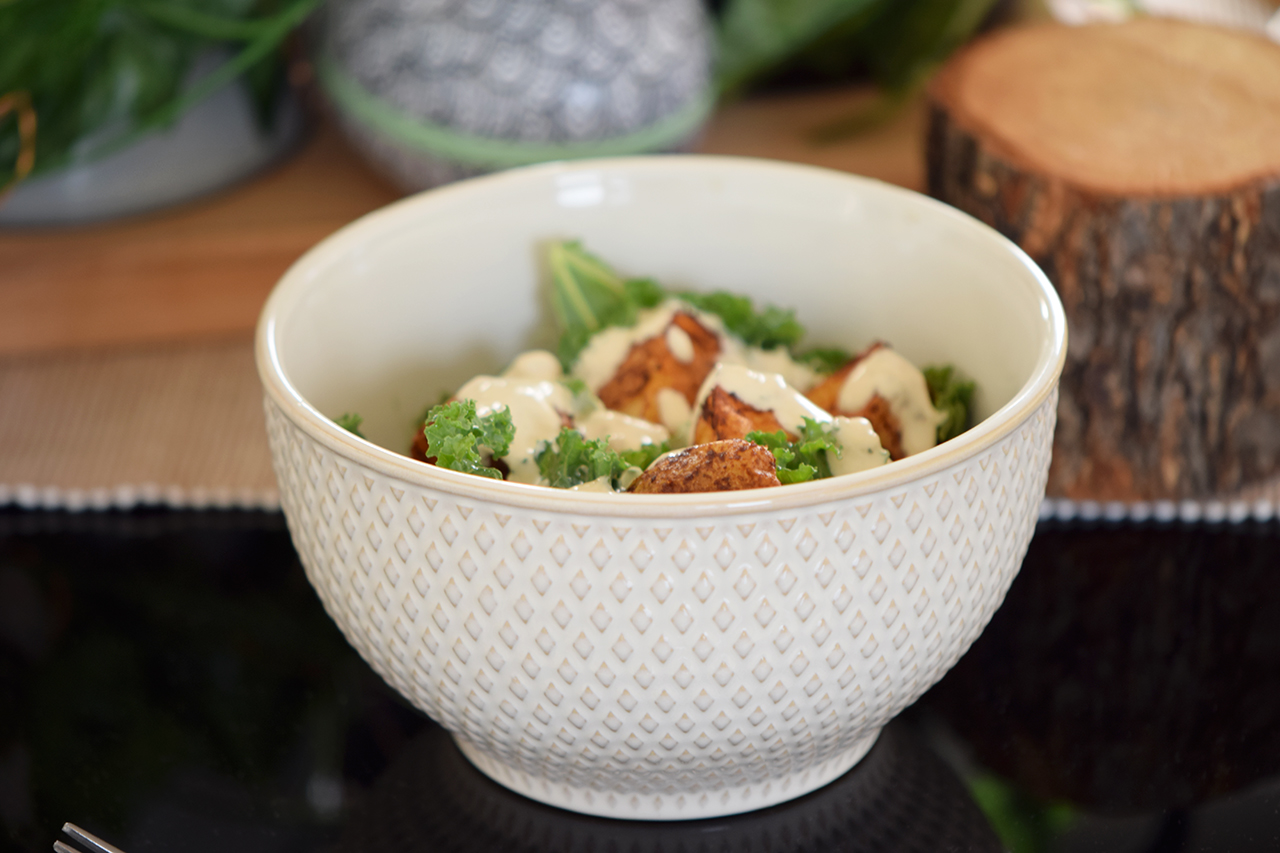 Yield: 4 to 6 persons
A vegan salad full of taste and energy
Ingredients
450gr baby potatoes
2tbs olive oil
1 tsp smoked paprika
sea salt
200gr kale
60gr tahini
2tbs mustard
2tbs wine vinegar
Instructions
Preheat the oven at 185 degrees Celsius
Wash thoroughly the potatoes with a brush (don't peal them) and cut them to four pieces in a large bowl
Add the olive oil, the smoked paprika and sea salt mixing them well with the potatoes.
Spread the potatoes on a oven pan covered with cooking paper.
Bake for 20 minutes from one side and 20 from the other.
In the meanwhile wash the kale and keep only the tender parts, cutting it in big chunks.
While straining the kale, prepare the tahini sauce by mixing the tahini, mustard and vinegar with a spoon.
In a salad bowl add the kale, the potatoes and spread the sauce on top.