First of all thank you once again for your kind words and messages regarding my previous article. They really mean a lot and give me strength and courage. Also, they motivate me to share with you all the material that is stuck in memory cards and notebooks. This is one of the recipe that had to be shared. 
Ok I confess I am obsessed with tahini. In all of its forms. Chocolate tahini for example is one of my favourite ingredients for healthy desserts. Let's not forger the 2 ingredients chocolate cookies. 
These bars are full of energy: they include almonds, flax seeds, oatmeal and of course chocolate tahini that give them an extra yummy taste. They are so easy to prepare and you can store them in a closed food container for a week for sure. 
When I was editing the pics I really craved a bite, just remembering how good they tasted. So I have already sent the ingredients to my dietician to include them in my meals (yes, I started a diet aka food blogger's nightmare). 
Let's go prepare the bars step by step and good luck to anyone that tries out the recipe. 

Chocolate Tahini Energy Bars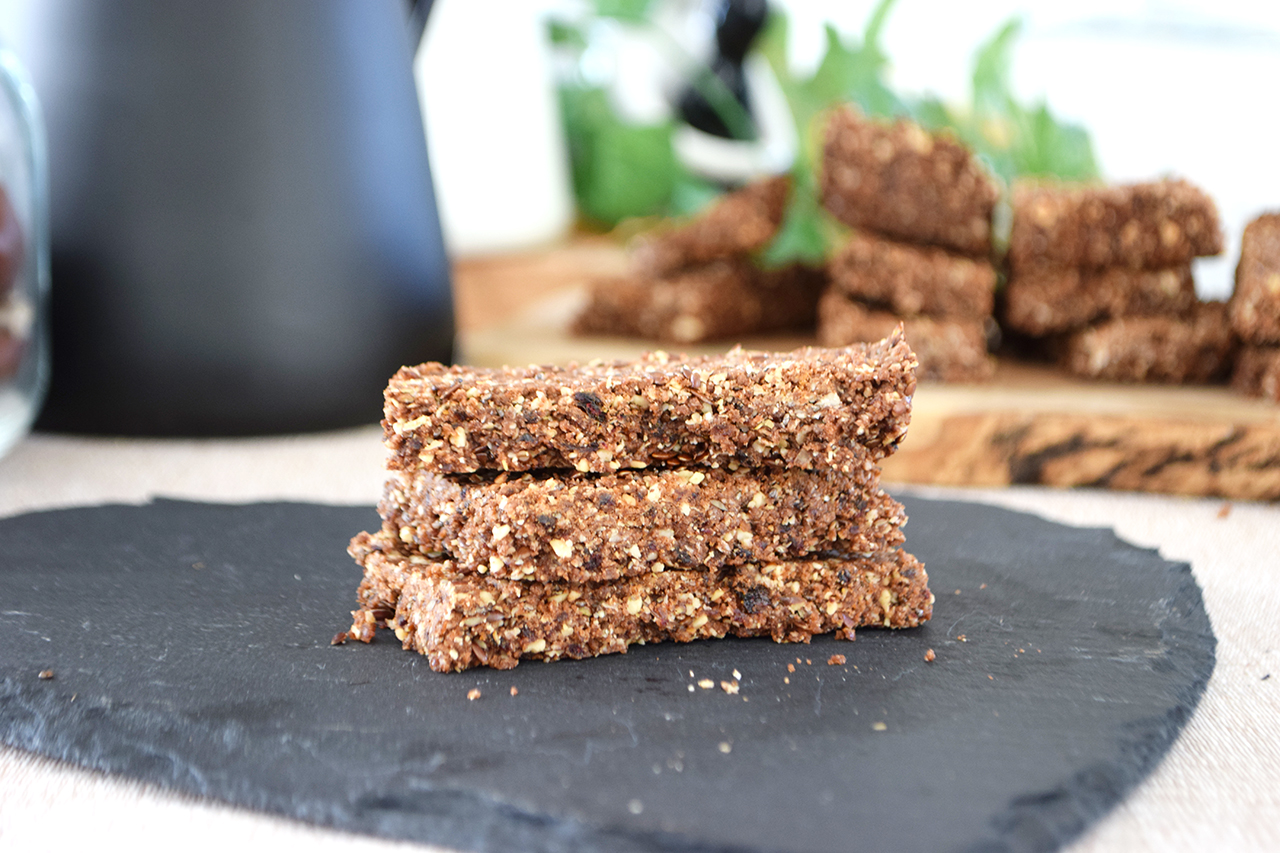 Yield: 15 appox. bars
Gluten free, full of energy and chocolate flavour bars.
Ingredients
122gr dried dates
73gr maple syrup
158gr chocolate tahini
100gr oatmeal flakes
½ tsp sea salt
42gr flaxseed
20gr chia seeds
72gr unsalted peeled almonds
1tsp oil
Instructions
Preheat oven at 160 degrees Celsius.
In a food processor add all ingredients except for oil and stir until mixed to one even daw
Spread the oil on an oven pan (I used one with dimensions 20x24cm) and cover with cooking paper as shown below
With a silicon spatula empty the mixture evenly on the pan.
Cover with another piece of cooking paper and with the help of the tahini vase press througout the pan area to make the mixture more even.
Bake of approximately 30 minutes.
Let it cool for about 5 minutes and cut it in pieces with an extra sharp knife
Notes
You may replace the maple syrup with running honey.
Prefer using a strong food processor for better mixing.