Cheese cakes are my favorite desser to experiment. I always try new versions even though I have posted just a feww of them. Chocolate, lemon, strawberry with vanilla base, oreo base the choices are just endless. The one seen in the pics above was made for a family dinner.
The oreo bases goes perfrectly with strawberry flavored cream. Colorful sprinkes were used both in the base and the topping giving an edge to the cheesecake presentation. I confess that the youngsters of the family got really excited 🙂
I need to add that the no bake cheesecake is the perfect dessert to make when preparing a whole menu. It can be assembled from the night before and wait for the dinner in the fridge. We can even make a birthday cake out of it 😉
So let's check out the recipe!

Strawberry Cheesecake with colorful sprinkles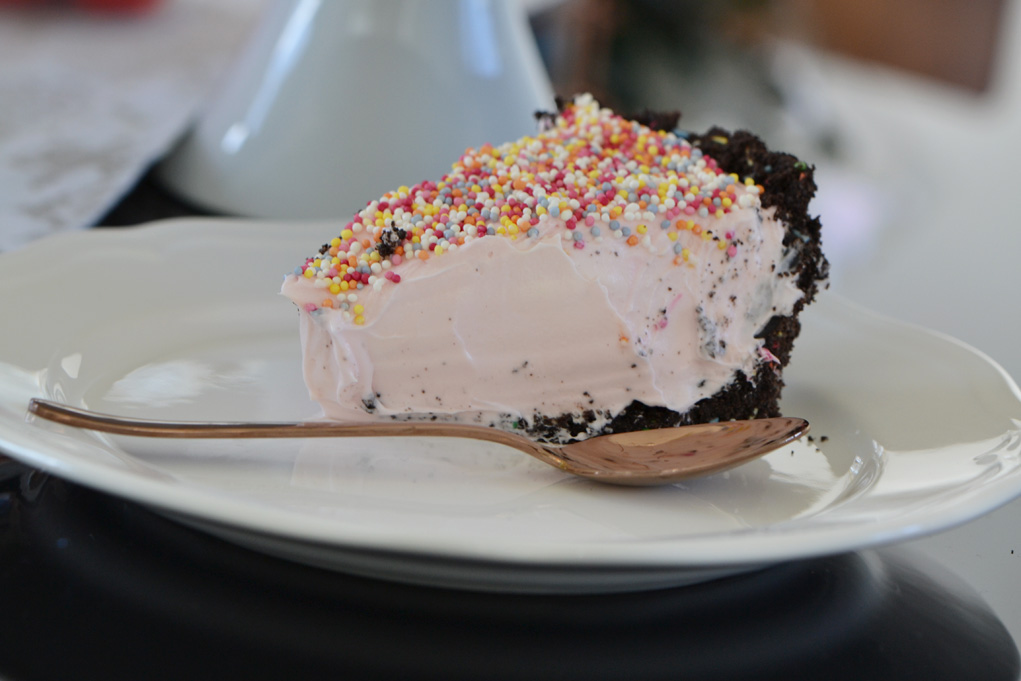 Yield: 1round mold 28cm diameter
Ingredients
616gr classic oreo cookies
160gr butter
600gr cream cheese in room temperature
½ cup white sugar
185gr strawberry nesquik
2 cans of 250gr morfat creamy (whipped cream condensed)
7 tbps colorful sprinkes
80gr colorful round sprinkes
Instructions
Melt butter in a small pot or in the microwave. In a standing mixer mix in high speed the whipped cream with the sugar until the whipped cream is nice and fluffy.
Add to mixer the cream cheese and continue mixing until the cream cheese is incoporated.
Add the strawberry nesquik and lower the mixer's speed to medium. The mixture should have a light pink color.
Crash to crumbles the oreo in the food processor. Add the butter and incoporate.
Add the sprinkles (not the round ones) and mix by hand.
In a round mould (with a detractable ring) spread evenly the cookie mixture and work it up to the edges of the mould with your fingers.
Spread the mixture of the mixer inside the cookie base with a silicon spatula. Beat lighlty the mould in the working bench and make the mixture even with the back of a tablespoon.
Refrigarate for 4 hours or overnight.
Just before serving, spread on top the round sprinkes.
Notes
Είναι σημαντικό το βούτυρο να είναι κρύο γιατί κάνει το μπισκότο μας πιο μαλακό και εύκολο στο σερβίρισμα