I really can't describe my feelings these days. Usually I am fine, happy to be healthy, to be me with my family and that all my beloved ones are also healthy.
But the announcement was made that going out is restricted my law and that you have to report when and why your are leaving home made me a little bit sick in the stomach. 
Not that I am going anywhere. Still working from home, Giannis goes most of the time for grocery supplies, but still… I do not know how to fell having to report your exits… 
I quickly snap out of it when I think that this is for our own well being. For keeping me and my family safe. Either way I am just asked to stay home. At my sweet home. So its ok. 
How life can change so deeply and so instantly is beyond belief… 
One of the good things of the whole situtation is that I had years to post so often in my blog. 
And to experiment with new recipes. This is how this absolutely yummy choco banana bread came out. So juicy and full in chocolate flavour. I had to share the recipe with you, right? And everything is going to be fine, right? 
Banana Bread Σοκολάτας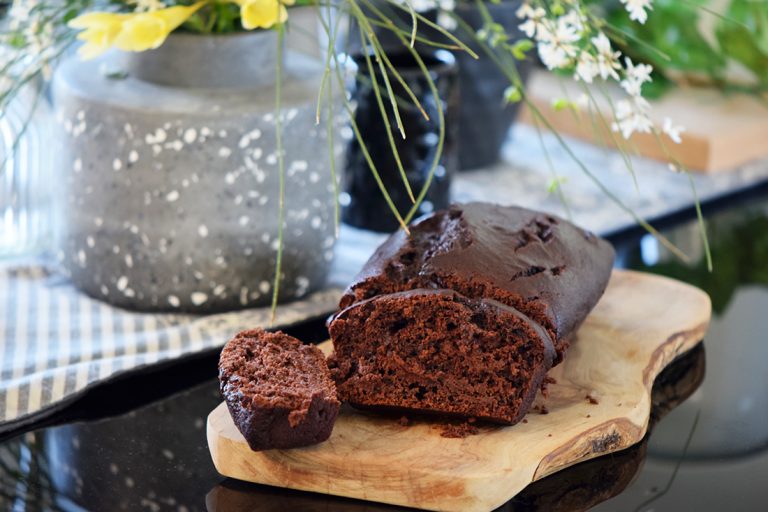 Yield: rectangular mould 22cm x 10cm
Ingredients
5 small size bananas very mature (300gr aprox. in net weight)
1 egg (54gr net weight
1 tsp vanilla extract
63gr oil (used corn oil)
45gr no sweet cocoa powder
150gr self rising flour
Instructions
Preheat the oven at 185 degrees Celsius
Rip and slice the bananas
Melt them in the food processor
In a deep bowl beat the egg with the sugar, adding the sugar, vanilla extract the oil and the banana puree.
Shift the cocoa powder to the mixture
Add the flour and fold it gently into the mix.
Spread the mixture to our baking mould. If you are not using a silicon mould don't forget to prepare it by greasing it.
Bake for about 45 minutes until the knife comes out clean from the centre of the banana bread.
Let it cool for 15 minutes, demould it and leave it on a rack to cool.