There are times where you just feel out of control. As a control freak,  I really hate that! This is exactly what happened to me this February. Time went busy so quickly I just I barely had time to breathe… Some days I felt that I was chasing my daily schedule. Every single morning I woke up full of energy and ideas and then the same evening (around 21:30) I was lying around the couch snoring. I had a lot of good times though: we went away for a weekend, we threw Yianni's 40th birthday party, baked cakes! Didn't have any time for blogging I confess.
So we waved bye bye to February and winter with him. The period of Apokries (Greek Halloween) has arrived here in Greece and we from one costume party to another with Penelope (when she is not sick I must add)! The costume of Penelope is Princess Sophia and in some occasions Queen Elsa from Frozen. So we drag our dresses from party to party.
These pizza rolls was the treat on a kid's costume party we attended on Sunday. There are really so easy and quick to make that I just had to share it with you. I hope you will love it as much as I did! It makes a super addition to your party menu! And they can be baked while you cook other things for your party menu. So let's see the recipe and wish you good luck in making them!

Pizza Rolls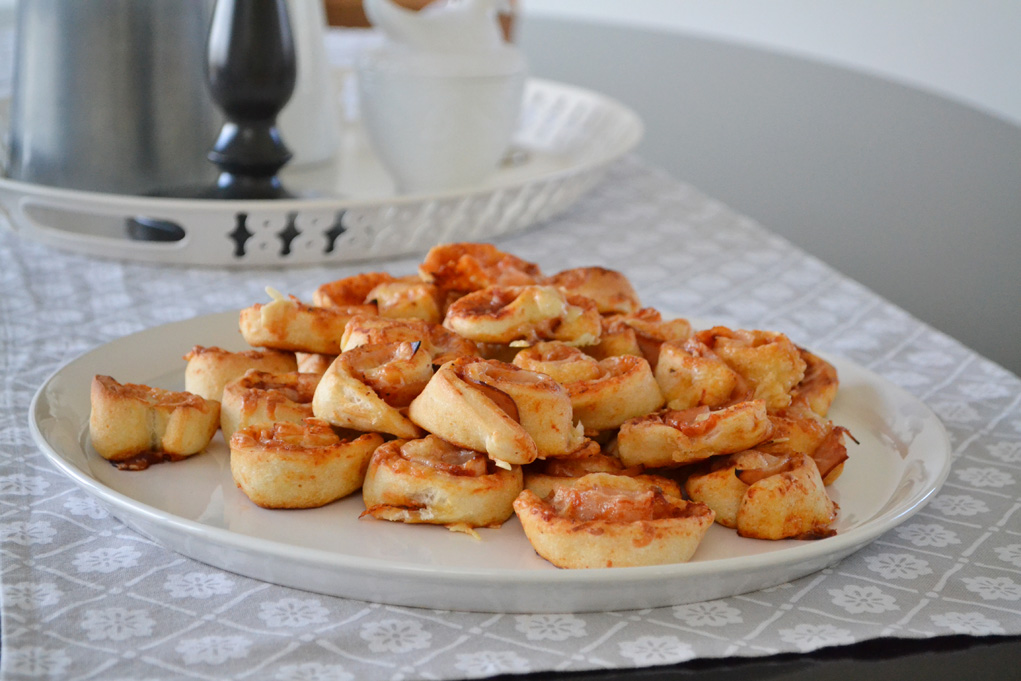 Yield: 35 to 40 bite sized pieces
Instructions
Preheat the oven in 200 degrees Celsius
Spread the cooking paper on our working space and open the dough in a rectangular shape
Please the slices of ham all over the dough leaving enough of space around them
Put one teaspoon of tomato sauce in the center of each slice under it.
Spread the cheese all over the slices
With a knife cut in sqaures
Roll each slice and connect the dough edges with some water
Cut in small rolls
Spread the rolls over cooking paper on a large oven pan so the roll is facing up
Spread some more cheese all over the rolls
Bake for 15-20 minutes.
Can be served hot or cold
Notes
If we want to make our own tomato sauce we can used 100gr condensed canned tomato juice seasoned with salt, half teaspoon of olive oil and half teaspoon oregano.