This Sunday is the Classic Marathon here in Athens. For half of the Athenians it is a day of celebration. For the other half, a day of wining for closed roads. I understand both sides since I was the one wining on Marathon Day for the closed roads up until seven years ago. Up until one year Yiannis decided to participate at the 5km racing. And the next year I decided to join him. And that was it. I fell in love with Marathon day. Being able to enjoy the center of Athens without the traffic is superb. The positive vibe of this day always reminds me of the 2004 Olympic Games in Athens. This is the main reason I love Athen's Classic Marathon. The other is even more important for me: hubby is going to run the whole 42km race for the second time and I will be there to cheer him up of course.
And this is where this plate steps in. Every marathon runner has a special carbo loading diet, especially during the last days of preparation. For me this translates to pasta and more pasta. We love pasta in our home. The one shown above is gluten and dairy free. Did I mention it's also vegan? Despite that, it is one of richest in taste pasta I have yet tasted. Go figure.
Let's check the recipe out and good luck to all runners this Sunday!! You are all winners!!

Gluten Free Veggie Pasta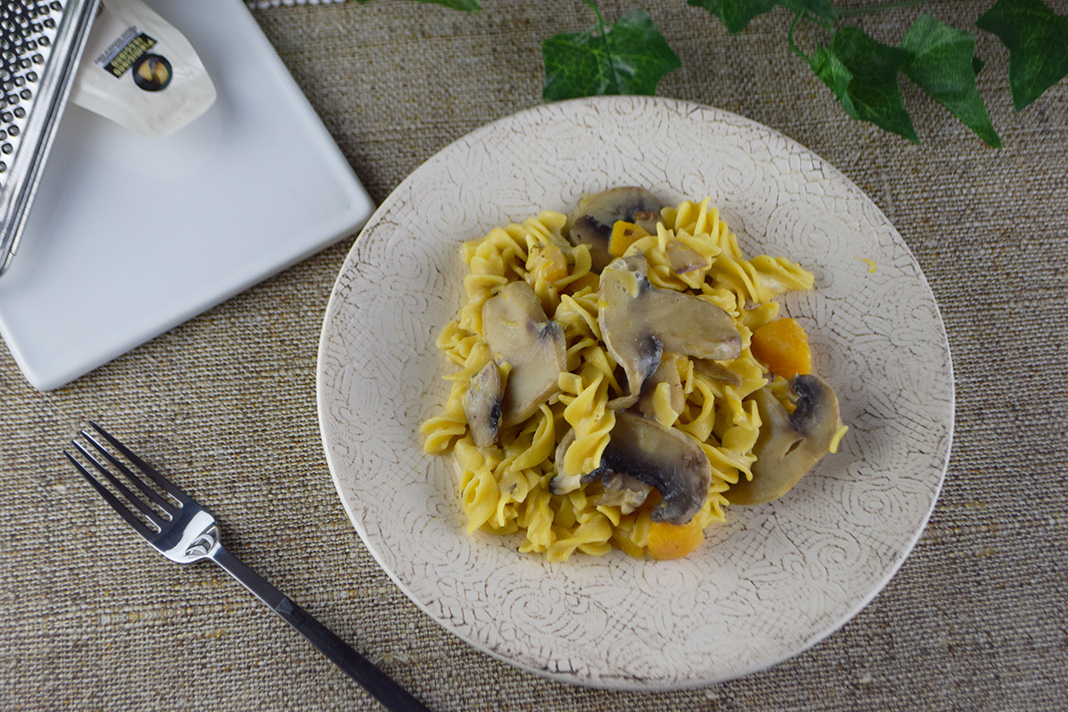 Yield: 2 to 3
Rich in flavour quinoa pasta with butternut squash, mushroom and almond milk. The veggie way of carbo loading.
Ingredients
200gr butternut squash cut in cubes
2 tbs olive oil
300gr white mushroom sliced
1 tsp garlic powder
1lt almond milk
227gr gluten free pasta (used these ones)
sea salt
vegetable stock (used this one)
Instructions
In a deep pan plase the olive oil and the squash cubes and cook for 3 to 4 minutes.
Add the mushroom slices with the garlic powder and keep on cooking stirring continuously for another 2 minutes.
Lower the heat to medium, pour in the almond milk, sea salt and the stock.
Add the pasta and cook al dente. I cooked them for 9 minutes.
Serve immediately.
Notes
Thank you
Evitamins
for offering the pasta used in this recipe.