For those of me following my instagram you probably have already seen that this year I was lucky enough to follow sugar art classes in the Municipality of Neon Iraklion (Attica). They have offered me so much and they really relax me!! I have so much fun (this is when I manage to go to the class). Our teacher Zozefina (aka okeik) was teaching us a lot of tricks and tips in using sugarpaste. The one thing I definitely will always keep in mind is that the super secret is letting our imagination free and think out of the box in using tools and realizing the project we have in plan. 
This is how these cookies were made, they appeared somewhere in my Facebook timeline (I really cannot remember the source), I fell in love with them and then I tried to recreate them with the tools  I had in my disposal. Bunnies, carrots and duckies made the cutest edible easter gifts!!! I also made my first attempt in decorating with royal icing. Thank God Silikomart sent me this amazing ready to use royal icing mixture and saved the day!!
Let's check out the basic sugar cookie recipe and see how can we bake our cookies in sticks making a super cute edible gift. 
Best wishes for a great Easter!!! Hope to have an amazing time with the ones you love!! 
Basic Sugar Cookies Recipe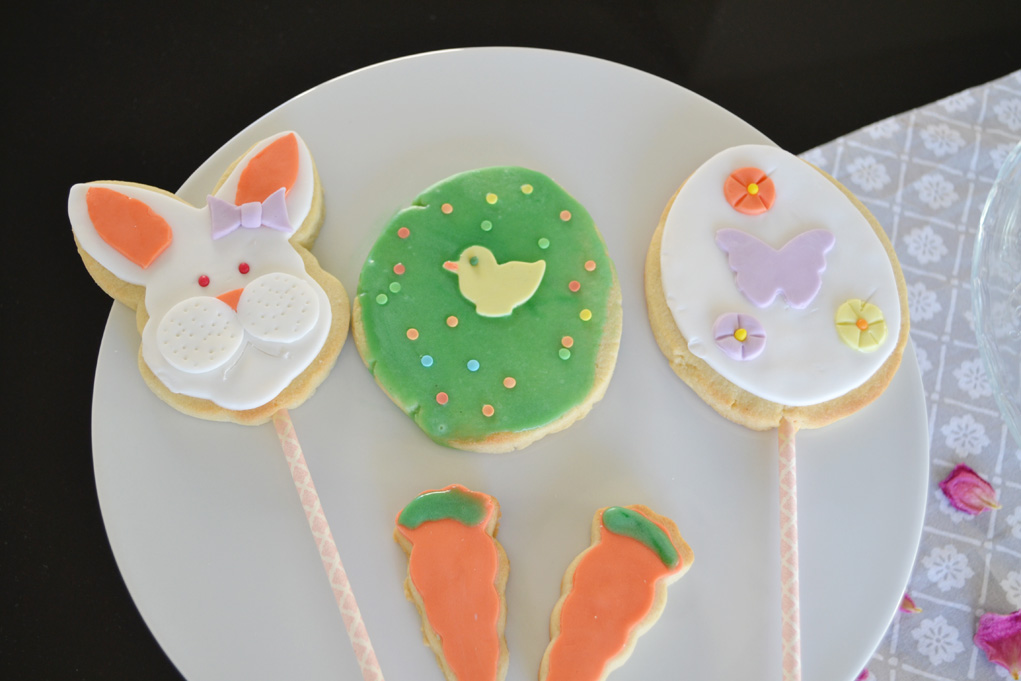 Yield: depends on the size of our cookie cutter
summary
Serve size:

1

Calories:

1

Fat:

1

Saturated fat:

1

Unsaturated fat:

1

Trans fat:

1

Carbs:

1

Sugar:

1

Sodium:

1

Fiber:

1

Protein:

1

Cholesterol:

1
Ingredients
250gr butter ( I use the brand Lurpak)
200gr sugar
1 tsp sea salt
1 tsp vanilla extract
1 egg in room temperature
500gr all purpose flour
Instructions
Place the butter off the fridge and on the working bench
Preheat the oven at 180 degrees Celsius (air function)
As soon as the butter gets a little smoother, beat it with the sugar on the mixer just to get the ingredients mixed
Add the egg and the vanilla extract and the sea salt and continue beating with the mixer
Gradually add the flour with the mixer motor running
Using our hands, mix the butter making a ball
Spread a large piece of cooking paper on the working bench and using a guide (I am using two small cutting boards ) open the pastry in approx 5mm height.
Cut the cookies with the cutters, place carefully a paper straw on the bottom of the cookie and with a large spatula move them to a large baking pan which is already covered with cooking paper.
Bake for approx 7 to 8 minutes. They are ready as soon as the turn gold on the edges.
Let them chill for about 10 minutes and get harder and then spread them on a rack and let them chill completely.
As soon as they get in room temperature we can start decorating them with royal icing, sugarpaste and truffles according to our likings !! Don't be afraid to mix colors and ingredients
Για τα λαγουδάκια, τα μάγουλα τα έκανα με καπάκι από εμφιαλωμένο νερό, τα αυτιά και τους φιόγκους με το κοπιδάκι μου!
Notes
The royal icing mixture can be found in Greece
here
. My mixture was green as seen in the pics. You can alter the color adding some green food color and make it a lot brighter!
The cookie cutters, sugarpaste and food coloring were bought from
here
The truffles and edible decorations were bougth from my local super market and their brand is
this one
Thanks a lot Silikomart for offering your product!
The paper straws were bought from
here