Black Velvet Cake και το μίνι Halloween πάρτυ μας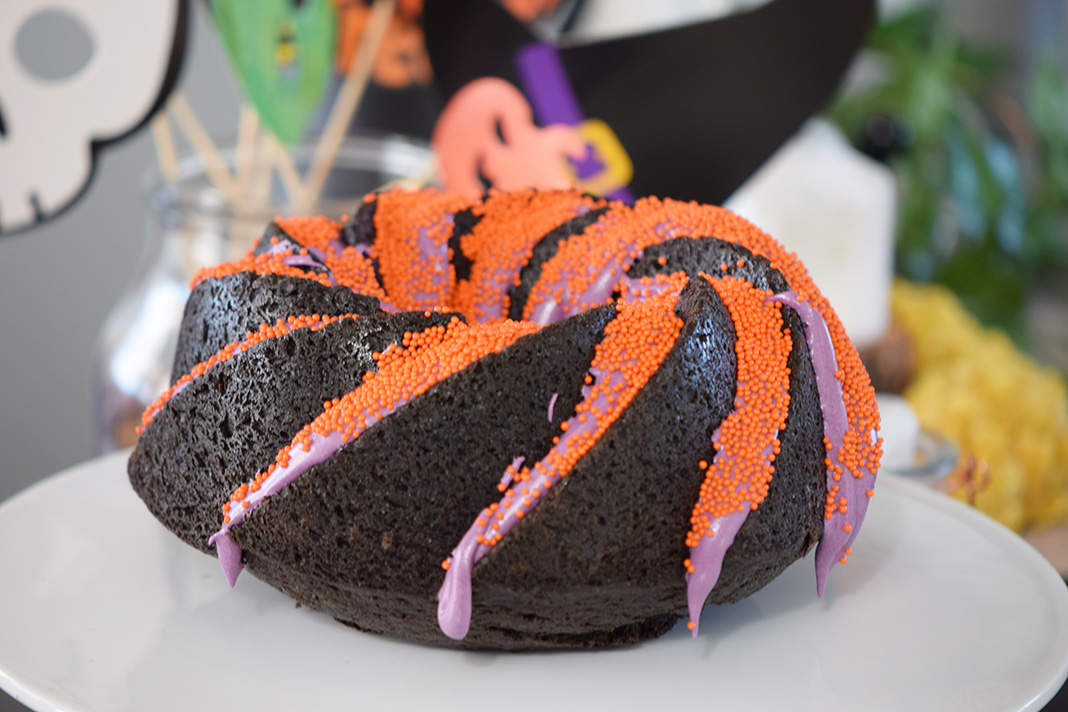 227gr vegetable oil
2 eggs
1 tsp vanilla extract
230gr buttermilk
1 tsp (3gr) white vinegar
1 bottle (28gr) black past food colour (used this one)
405gr all purpose flour
1 tsp (7gr) baking soda
2 tbsp (15gr) raw cocoa powder
1 tsp (8gr) seasalt
305gr plain sugar
For the glaze
75gr non salted cream cheese at room temperature
40gr butter unsalted (used Lurpak) at room temperature
135gr confectioner sugar
¼ tsp vanilla extract
purple food colour (used this one)
orange deco candies
Preheat the oven at 175 degreed Celsius.
In a large bowl, mix all dry ingredients (flour, soda, cocoa, salt and sugar) and leave aside.
In a standing mixer blend all wet ingredients, eggs, buttermilk, oil and food colouring until we get a total black mixture at low speed.
Add in small batches the dry mixture and keep on blending at low speed up until we have a smooth butter.
Fill in our baking mould (used a silicon one).
Bake for about 70 minutes, until the knife comes out clean from the bottom of the cake.
Let the cake cool and then demould.
For the glaze mix all ingredients in a standing mixer until we have a deep purple smooth result.
Decorate the cake with the glaze and the candies.
Recipe by
Craft Cook Love
at https://www.craftcooklove.gr/en/2018/10/black-velvet-cake-mini-halloween-party.html